Saab releases limited edition Big Pink model
Designed by Robbie Robertson -- Levon Helm and Garth Hudson to perform at release party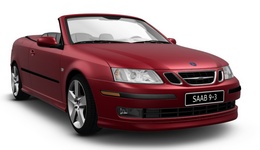 Saab 9-3 Big Pink
West Saugerties Journal, 04.01.2006 - During the 1990s, Volkswagen sponsored three high-profile rock bands' European tours, and issued special-editions of the Rabbit (or the Golf, as the model is called in Europe), with distinctive exterior markings, for each: the 1994 Pink Floyd Edition, the 1995 Golf Rolling Stones Edition, and the 1996 Bon Jovi Edition. Now Saab is doing the same with a new limited edition 9-3 convertible named after the pink house in West Saugerties where Bob Dylan and The Band recorded the legendary Basement Tapes in the late '60s.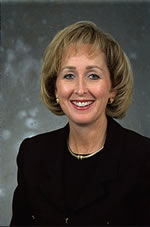 Kelly-Ennis, Saab President and CEO

The new model is the brainchild of Debra Kelly-Ennis, President and Chief Operating Officer for Saab Cars USA since 2002. "I was a huge fan of The Band in my youth and have followed them closely all these years," says Kelly-Ennis. "The idea of a Big Pink model was born when we realized how many fans The Band still have on the internet. Most of these people are middle-aged, wealthy and into quality, in music and in cars. We strongly believe there is a market for a limited edition convertible aimed at Dylan and Band fans."

The Band's songwriter and guitarist Robbie Robertson got involved in the project last year, as part of the Saab design team. He selected the pinkish-red color of the car and also designed the discrete "BP" logo sitting between the tail lights.

The new model is based on the 9-3 2006 Aero Convertible, with a 2.8 liter 6-cylinder turbocharged 250-hp engine and 6-speed manual gearbox. It comes with a special 300 Watt Saab Infotainment system, 10 speakers and a 6-disc in-dash CD changer. Starting at $45,620, the Big Pink model costs $3000 more than the regular 9-3 Saab Aero. Included in the price is a special treat for Band fans, a 48-bit remastered reissue of The Band's debut album Music from Big Pink, with two previously unreleased Basement Tapes bonus tracks lifted from the archives of the group's keyboard wizard, Garth Hudson.

The release of the new model will be marked with a Saab car show and free outdoor concert at the Village Green in Woodstock, NY, today, April 1st, at 8pm. Robertson and Hudson will perform Band and Dylan songs, with vocals from Hudson's wife Maud.

The Band's drummer and singer Levon Helm, a Woodstock resident and long-time Saab owner, has also been invited to perform at tonight's concert. "Levon is a Saab afficionado," says Kelly-Ennis, "and we have a customized 9-3 Big Pink waiting for him. If he shows up it'll be the first time in nearly 30 years that the three former Band members share a stage!"

More information about the Saab 9-3 Big Pink available from saab-big-pink.com.