Levon Helm back at Madison Square Garden in May, for the First Time in 33 Years
Broadway theater show sold out in 10 minutes, now The Band's lead singer aims for the really big stage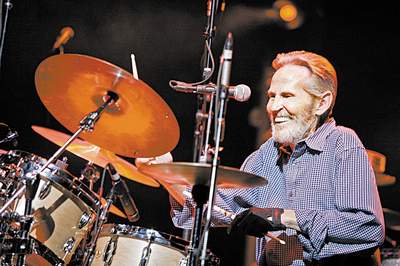 Levon Helm at the Beacon Theater in New York City, 03.17.2007.
West Saugerties Journal, 04.01.2007 - In January 1974 Bob Dylan and The Band, featuring legendary drummer and lead singer Levon Helm, filled New York's Madison Square Garden. Two weeks ago the Levon Helm Band triumphed at a sold-out Beacon Theater on Brodway -- all tickets were gone 10 minutes after sales opened on the Internet -- to fantastic reviews. This was Helm's first appearance on the big stage for over a decade, a wonderful comeback from one of rock's greatest voices after long battles with health problems and financial issues.
And in May, Levon will be back at New York's Madison Square Garden! Three concerts with Levon and friends at the MSQ -- Thursday May 17th, Friday 18th and Saturday 19th -- have now been confirmed. Levon's "friends" at the Beacon Theater shows in March included Dr. John and the Band's keyboard wizard Garth Hudson. Rumors say that Bob Dylan, Van Morrison, Keith Richards, the Norwegian DJ Champion Final and The Band's guitarist Robbie Robertson are scheduled to appear at the MSQ shows.
As a special treat to Band fans, 100 tickets to Levon's Thursday May 17th (which also happens to be Norway's national day) show will be given away for free on the Internet. Just log in to the chat room at The Band's (Norwegian) web site and leave your e-mail address together with the keyword "HL&S" and you may win a ticket to the gig!
More information about the Levon Helm Band's Madison Square Garden concerts can be found at levon-at-the-MSQ.com.