Koch Entertainment press release, January 2003
The Last Hombres:Redemption
Artist Bio
"This IS a curse! This is not a blessing this music thing we do, we have to do this, we have to do it everyday, I call that a curse."
--Levon Helm
What do you do when Levon Helm rings you on the phone and asks if he can be your drummer?

"You say, 'WHAT? I mean YES! For chrissakes, YES!' then hang-up thinking this may be the best damn birthday ever," laughs Paul Schmitz, the guitarist for The Last Hombres.

Schmitz had been playing in roots rock bands for the better part of 15 years with Michael Meehan, a Texas-bred bassist extraordinaire, who he had first met in high school. After a steady stream of good guitar players but bad band mates had passed through the Hombres' swinging saloon doors, Russ Seeger and his dead serious six-string strode into their lives. Schmitz relayed that the mysterious Seeger, a man of many licks but few words, "just sauntered in from parts unknown one day when we were setting-up for a gig and asked if we were looking for a slinger. As luck would have it, our then-guitarist had informed us only hours before that this was to be his last gig. So we asked Seeger if we would sit it for a few tunes that night and, man, he just lit it up. And he's continued to do that on every gig since. Russ went from killer hired gun to an official Hombre quickly. He still doesn't talk much, but when the man plays like that, you just don't ask."

In the mid-90's, Meehan befriended Perry Margouleff, the owner of NY's famed Pie Studios (Rolling Stones, Aerosmith, Joan Osborne), and subsequently became something of a fixture at the studios. It was through this association that The Last Hombres hooked-up with an opening slot for a Levon Helm, the legendary drummer/vocalist of The Band, show at a legendary New York City nightclub.

During sound check, the always-affable Helm suggested that they should jam on a few tunes together during that evening's performance. Now The Last Hombres had been backed by a succession of drummers throughout their years, but they'd never found the perfect partner to reflect the driving rain of their rode hard and put up wet sound. And then Levon sat at the skins that night. "It was like everything we had ever worked for just fell into place with that first snare pop," Schmitz confessed. "But when I went home that night, I was distraught because the person who had just helped us find this perfect sound was a living legend - a guy who hung out with Dylan, the man that sang, "The Night They Drove Old Dixie Down". It was like, saying, 'Yeah, wouldn't it be great if we could add Keith Richards to The Hombres on guitar? It just seemed like such a complete fantasy.'"

Schmitz continues, "The next night happened to be my birthday. I was at home celebrating with friends and family and the phone rings. It was Levon! He had felt IT too and asked, 'So am I in the band?' The rest is Hombres' history."

Backed by Helm, The Last Hombres brandished Redemption, a dangerous new disc of raw roots rock guaranteed to resonate with both the alt-country/Americana herd and the long riders of classic rock. Relix captured the outlaw essence of the now complete Hombres writing, "One could easily think this band is from Texas or some other border town, despite the New York origins. They flat out rock." Recorded in 2001 at Pie Studios and produced by The Last Hombres and George Fullan, the new set features Ex-New Riders of the Purple Sage pedal steel ace Buddy Cage, who played with The Band in the '80s, on several tracks and other guest shots from David Maxwell on piano and Hammond and Cathy Kreger on vocals.

See the roots rock fantasy come to life when The Last Hombres saddle up for a tour that's sure to kick up the dust in early 2003.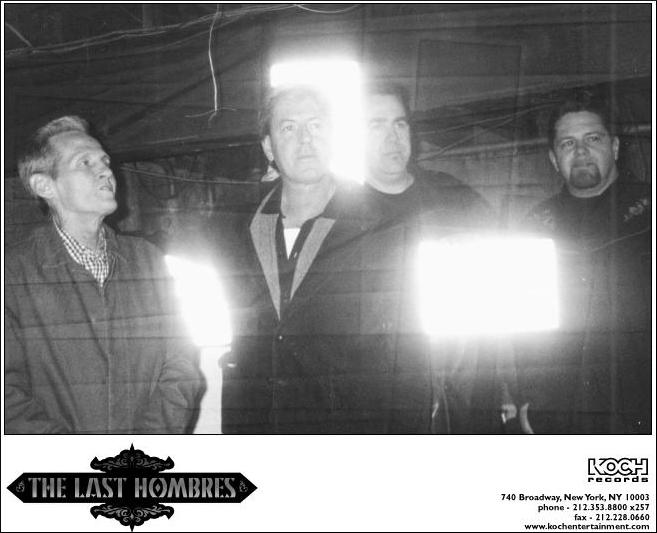 For more information, please contact:
Lulu Cohen, Senior Director Media Relations
KOCH Records
740 Broadway, 7th Floor
New York, NY 10003
(212) 353-8800 x257
lulu.cohen@kochent.com