Levon takes his Midnight Ramble on World Tour with stellar cast of guest artists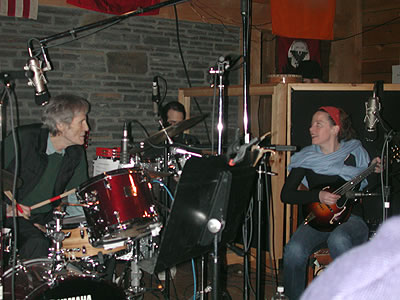 Levon and Amy Helm, Midnight Ramble at Levon's barn/studio on Plochman Lane, Woodstock, January 2004
West Saugerties Journal, 04.01.2005 - In the '60s he toured America with Bob Dylan. In the '70s he toured the world as the singing drummer of rock legends The Band. And now, aged 64, Levon Helm is once again ready to present his music to fans worldwide, when his Midnight Ramble show start their world tour in June 2005.
Silenced since his bout with throat cancer several years ago, one of the true great voices of rock is now finally back. Since early 2004, Helm has been singing and playing with his blues band at "Midnight Ramble" concerts for small audiences at his barn studio in Woodstock, NY. A Midnight Ramble is basically a gathering of Rock and Roll Hall of Fame member Helm's friends, based on the traveling minstrel medicine shows he saw as a boy in Arkansas.
And now it's time for the Ramble to start travelling, too. In June, the Levon Helm Band, reinforced with The Band's keyboard magician Garth Hudson, and Helm's daughter Amy's group Ollabelle, kick off their 2005 Midnight Ramble World Tour with a concert in Los Angeles, CA. The tour will be sponsored by international corporations Coca-Cola and Levis', and the largest wireless company in the United States, Cingular. All three sponsors have used Helm's voice singing The Band's signature tune "The Weight" in previous TV commercials.
"The idea is that we will have different musical guests and friends sitting in with Levon's band at every venue," says an excited tour manager Butch Dener on the phone from Woodstock. "We'll travel the US first, then Japan in July, before ending with a string of European dates in August."
According to Dener, music celebreties all over the world are more than willing to Ramble with Levon when he stops by: "Yeah, everyone are such big fans of Levon and The Band, you know. They just can't say no to this! We have Eric Clapton confirmed for the London gig, and are working on getting Van Morrison in Dublin. Also' we'll probably cross paths with the current world tours of both Dylan and U2 -- who knows what may happen then!" There are also rumours that former Band-guitarist Robbie Robertson will take time off from his work as a film consultant for Steven Spielberg, to join the Levon Helm Band at the opening gig in LA.
For more information about the Midnight Ramble World Tour, check out their new web site: midnight-ramble-world-tour.com.