Eric Clapton: It's Robbie's Birthday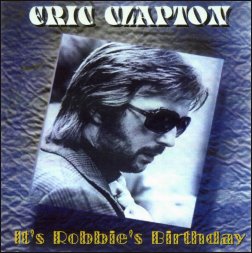 [CD cover] [Back cover]
Most of this curiously-titled Eric Clapton bootleg was recorded at the Three Rivers Stadium, Pittsburgh, Pennsylvania, July 5, 74 - on Robbie Robertson's 31st birthday. The Band and Todd Rundgren also played sets at the same concert. It is an OK quality soundboard recording.
Robbie and The Band probably had nothing to do with Clapton's show and did not perform. But, track 2 on the CD, called "It's Robbie's Birthday", is a very drunk Clapton "singing" a happy birthday song to Robbie. So he was probably sitting in the audience or backstage or something...
Below is a "review" of the event, from someone who was there:
I was at that July 5, 1974 show. Eric Clapton was the headliner. Also on the bill: The Band, Todd Rundgren's Utopia and Billy Cox's 'Rainbows & Gypsies,' who had the good sense not to show. Overall it was an ugly day - the previous day, of course, was July 4th. Everybody still had fireworks, firecrackers, sparklers, etc. The buzz of the day appeared to be downers and liquor. Much violence. Someone threw an oversized sparkler onto the canvas roof of the stage and set it on fire during The Band's set, which was otherwise unmarred and wonderful. Things seemed to culminate during EC's set - he was hit in the face with a frisbee - one of the backup singers - maybe Yvonne Elliman? Was hit with a beercan. He took time out to curse the audience ("fuck you, whoever threw that one; your fuckin' mother...") and told them to just knock off the 'fuckin' aggravation.' When I saw the name of the boot, I thought 'it can't possibly be THAT show...' EC did indeed sing 'it's Robbie's birthday' for all of a few seconds. An account in the press (maybe Rolling Stone?) claimed Clapton joined The Band for a song or two, but I was there and I saw nothing of the kind - I felt bad that I'd missed something til I realized you can't believe everything you read. If it did happen in all the mayhem, too bad. You would think that would surface.

Tracks
Pittsburgh, Pennsylvania, July 5 -74:
Smile
It's Robbie's Birthday
Let It Grow
Can't Find My Way Home
Willie & The Hand Jive - Get Ready
Blues Power
Little Queenie
Tell The Truth - Crossroads
Hamburg, Nov 26 -74:
Mainline Florida
Let It Rain
Montreal, July 9 -74:
Mean Old World
Eric Clapton - It's Robbie's Birthday - 2000 - ?
---
[History] [Members] [Library] [Discography] [Videography] [Filmography] [Pictures] [Audio Files] [Video Clips] [Tape Archive] [Concerts] [Related Artists] [Merchandise] [Guestbook] [Chat Room] [Search] [What's New?] [Main Page]
Webmaster