Borderline: Sweet Dreams and Quiet Desires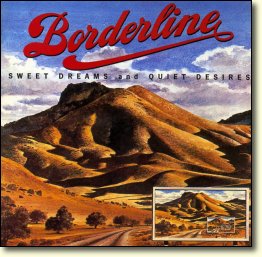 [CD cover]
The members of the group Borderline were Jim Rooney and the brothers Jon and David Gershen. Their 1972 country/ country-rock album Sweet Dreams.. was recorded at Bearsville Studio in Woodstock and produced by singer, guitarist and founding member Jon Gershen.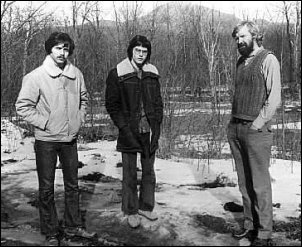 Borderline, from left, David Gershen, Jon Gershen, and Jim Rooney (photo by Stanley Knap)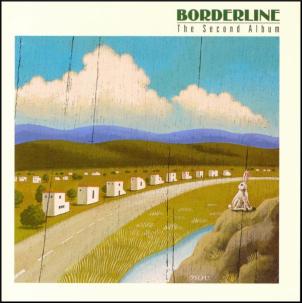 2001 Japanese CD release of Borderline's second LP

Both Richard Manuel and Garth Hudson contributed keyboard parts, although Albert Grossman preferred that they use pseudonyms for the album credits. Richard was listed as "Dick Handle" and Garth was listed as "Campo Malaqua." Richard Manuel plays piano on tracks 3 and 7, and clavinet and piano on track 11. Garth on organ on track 7. The Band's producer John Simon also plays piano on tracks 5, 8 and 10.

Sweet Dreams... was released on CD by Toshiba, Japan in 2000, including a booklet with extensive liner notes (in Japanese), a recommendation of the album from Van Morrison, and lyrics both in English and Japanese. For more about the album and this group, see Hideki Watanabe's Borderline web pages and Matthew Lewis' article about Borderline.

A second Borderline album was made in 1973, also with a stellar list of musicians, but United Artists did not release it. In 2001, EMI Japan released the second album on CD (TOCP-65885). The original master tape was lost, the CD is made from an acetate provided by group member Jon Gershen.
Tracks
1.
Handsome Molly
(Trad. Arranged by J. Rooney)
2.
Marble Eyes
(D. Gershen)
3.
Don't Know Where I'm Going
(D. Gershen)
(4.4MB)
4.
Good Woman's Love
(J. Rooney)
5.
Please Help Me Forget
(J. Gershen)
6.
The Distance
(D. Gersehn)
7.
Dragonfly
(J. Gershen)
(4.7MB)
8.
Sweet Dreams
(D. Gershen)
9.
Clinch Mountain
(Trad. Arranged by J. Rooney)
10.
Marilla
(D. Gershen)
11.
As Long As It's You And Me
(J. Gershen)
(5.7MB)
Sidemen
Vassar Clements, fiddle
Jim Colegrove, bass/ background vocals
David Gershen, vocals/ guitar
Jon Gershen, producer/ vocals/ lead guitar
Dick Handle (Richard Manuel), clavinet/ piano
Nick Jameson, guitar/ engineering
Ben Keith, steel
Ken Kosek, fiddle
Campo Malaqua (Garth Hudson), organ
Billy Mundi, drums/ percussion
Jim Rooney, producer/vocals/guitar
Dave Sanborn, sax
John Simon, piano
Mark Harman, engineering
Borderline: Sweet Dreams and Quiet Desires - 1972 - Avalanche/United Artists AV-LA01-16-F
Japanese LP: Toshiba EMI, LAP-80823 (1978)
Compact Disc: Toshiba EMI, TOCP-53124 (2000)
---
[History] [Members] [Library] [Discography] [Videography] [Filmography] [Pictures] [Audio Files] [Video Clips] [Tape Archive] [Concerts] [Related Artists] [Merchandise] [Guestbook] [Chat Room] [Search] [What's New?] [Main Page]
Webmaster