Rock Efectivo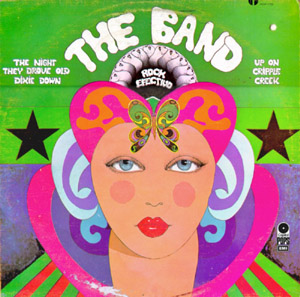 [LP cover] [Back cover]
"Psychedelic" Mexican 10-track pressing by Capitol/EMI of the brown album. The original LP had 12 tracks - "When You Awake" is missing from side A and "The Unfaithful Servant" from side B of the Mexican LP.
The cover has no credits or photos, the cover is sort of colourful psych with the words "Rock Efectivo" (presumably the album title) in the graphic. Song titles are all in English, but weird Spanish translations are provided (except for "Rag Mama Rag").
And here are the Spanish liner notes:
Cada album de The Band es un gran evento en el ambito mucial de todo el mundo. Los critico especializados dedican paginas completas para commentar el 'nacimiento' de las nuevas composiciones de los integrantes del grupo, los que mezclando musica religiosa, con country y rock pesado han creado el 'country rock pesado' precisamente.

Su musica es del las que trasciende. Temas como 'Rag Mama Rag', 'La Noche que enganaron a la Veija Dixie' y 'Alla en Arroyo Torcido' no pueden y de po si no quedan en la montana de discos sin elogio.

Cada intervencion de The Band en el complejo mundo disquero es afortunada, no por suerte, sino por la larga secuela de trabajo que de anos atras vienen arrastrando, hasta convertirla en gratas experiencias y profesionalismo musical del presente.
Tracks
Across the Great Divide ("A Traves de la Gran Separacion")
Rag Mama Rag
The Night They Drove Old Dixie Down ("La Noche que Enganaron a la Veija Dixie")
Up On Cripple Creek ("Alla en Arroyo Torcido")
Whispering Pines ("Pinos Susurrando")
Jemima Surrender ("Jemima Entregate")
Rockin' Chair ("Silla Mecedora")
Look Out, Cleveland ("Cuidado Cleveland")
Jawbone ("Mandibulo")
King Harvest [Has Surely Come] ("Rey Harvest [Vino en Verdad]")
The Band - Rock Efectivo - 1970 - Capitol Pop/EMI POP-172
---
[History] [Members] [Library] [Discography] [Videography] [Filmography] [Pictures] [Audio Files] [Video Clips] [Tape Archive] [Concerts] [Related Artists] [Merchandise] [Guestbook] [Chat Room] [Search] [What's New?] [Main Page]
Webmaster