For the Band Fans, the Long Wait is Finally Over
---
by Robert Hilburn
Review of Northern Lights -- Southern Cross from the Los Angeles Times, Sunday, December 7, 1975.
---
If even some of its most ardent supporters have tended to worry about the future of the Band in recent years, the group itself has certainly done little to alleviate the concern. Except for the "Moondog Matinee" oldies collection, the Band - once widely heralded as America's premier rock unit - hasn't released a new studio album in more than four years.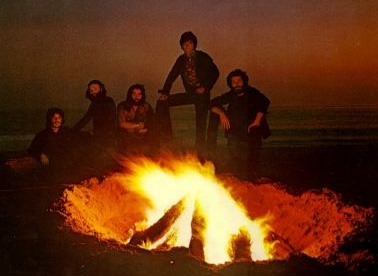 In "Northern Lights/Southern Cross," the Band is providing its audience with new reasons to believe.
True, the Band backed Bob Dylan on "Planet Waves" and drew rave reviews of its own when it toured with Dylan last year. It also upstaged Crosby, Stills, Nash & Young so badly - in an artistic sense - last year at the Oakland Stadium that it was a wonder CSNY didn't call it quits on the spot.
But mostly the Band - which has moved its personal and professional base from Woodstock to Malibu - has been in what appeared to be semi-retirement, leaving others - chiefly the Allman Brothers, Steely Dan and the Eagles - to contend for the American leadership in rock.
To make matters worse, the Band's last album of original material ("Cahoots" in 1971) was its weakest artistically and, probably, its poorest seller. "Rock of Ages," a two-record set in 1972, was a spectacular live album, but it relied almost exclusively on the group's old songs. The Band still needed to give its audience new reasons to believe.
"Moondog Matinee," in 1973, was a greatly satisfying look at rock's roots (e.g., "Mystery Train," "The Great Pretender"), but it, too, failed to fully flex the group's creative abilities. Things seemed to grow even more tenuous the year as the release date of the Band's long-awaited new studio album go pushed back farther and farther.
The wait, however, is finally over, and the Band's fans can rejoice. "Northern Lights/Southern Cross' is not merely the first true Band album in four years, but, crucially, the most consistent and penetrating Band album since the group's classic "The Band" in 1969. There is a sureness and strength in both the songwriting and musical execution that reclaims the Band's position of leadership in rock.
While there is no need to view the album as more than simply a collection of interesting, entertaining songs, Robbie Robertson is such an accomplished and purposeful lyrics that his songs invite the listener to look for some deeper meanings and unifying factors.
In the heart of "Northern Lights/Southern Cross," Robertson and the Band look at some of the complexities, ironies and, indeed, disappointments of this "restless age" in America. It's an examination that was touched on the "Stage Fright" album in 1970 and in "Cahoots'" but the study is more concentrated and well-defined here.
By updating the exploration of the American spirit and heritage that was launched in the original "The Band" album, the rock quintet has completed the artistic circle in its new album (Capitol ST 11440) that it began in 1969 with such songs as "Across The Great Divide," "King Harvest," and "The Night They Drove Old Dixie Down."
In the album's opening "Forbidden Fruit," for instance, Robertson speaks of how many people these days seem torn between a deep-rooted emptiness (e.g., economic, spiritual) and increasing desires/temptations in a way that makes it difficult for one to gain balance or perspective. The song's tone, however, is light and wry rather than morose:
High and lonesome out on Times Square
Haven't got a dime, ain't got a prayer
Deliver us, Lord, from this golden calf
People only want what they can not have ?
How can I walk with this ball and chain?
How can I land in this hurricane?
Or is this part of man's evolution
To be torn between truth and illusion?
By contrast, "Hobo Jungle," the next track, deals with those who have stepped from the mainstream in a way that causes them to be labeled outcasts, but who actually may have a keener sense of direction than most. The song's universal tone turns it into a gentle ode to anyone who seeks his own - sometimes lonely, unpopular - path. Richard Manuel's vocal is so lovely and evocative that the Grammy Award voters should remember it if they are really serious about honoring the best performance this year:
There was a chill that night in the hobo jungle
Over the train yard lay a smooth coat of frost
Although nobody here really knows where they're goin'
At the very same time, nobody's lost ?
Drifters and rounders and distant friends
Ridin' the rods, sleepin' under the stars
Playin' the odds from a rollin' box car.
In the equally poignant "It Makes No Difference," Robertson touches on a theme (a love affair blocked by prior obligations) that is so contemporary that it just finished winning a song-of-the-year Grammy for the writers of "I Honestly Love You." But the Band song is such a more eloquent treatment that the judges may want to consider a revote.

The 1970s certainly have no monopoly on romantic complications, but the changing moral and philosophical values of this era have certainly added to romance's sometimes tormenting intensity. The lead vocal - this time by Rick Danko - is so convincing that it may well be Richard Manuel's only legitimate competition for a vocalist of the year Grammy. The song deals with the ache of a romance that can't be finalized:
It makes no difference how far I go
Like a scar the hurt will always show
I makes no difference who I meet
They're just a face in the crowd on a dead-end street.
"Acadian Driftwood," a song with much of the tone and historical sensitivity of "The Night They Drove Old Dixie Down," deals with the forced migration of a people (the Acadians who originally settled in Nova Scotia) in a way that is once a reflection of their plight, but also relates to the continued oppression around the world.

Where "Acadian Driftwood" offers Robertson in his familiar role of story-teller, there is an intimacy and personal vision in much of "Northern Lights/Southern Cross" that gives it the overtones of a solo work by a singer-songwriter. But no singer-songwriter ever had as rich and flexible a means through which to present his music.

In Danko, Manuel and Levon Helm, the Band has three of the finest vocal interpreters in contemporary pop music. While Danko and Manuel are at their best on the more plaintive tunes, Helm is ideally suited for the earthier, kick-up-your-heels numbers. "Ophelia" and "Ring Your Bell," for instance, are songs on the new album that are in the "Rag Mama Rag"/"Up On Cripple Creek" tradition that is tailor-made for Helm's rough and rowdy vocal ways. Helm has just the right touch of grin-and-bear-it conviction in his voice.

Instrumentally, the important thing about the Band is the way its arrangements seem at once spare and complete. The group knows when to stop adding layers to its sound. Garth Hudson's use of synthesizer is an example. Though the synthesizer is noticeable on several tracks in "Northern Lights/Southern Cross," it never becomes unruly or dominant as it does in so many undisciplined bands.

But the playing generally on the album - particularly Helm's steady, propulsive drumming - is comfortable and controlled. Unlike so many groups returning from a layoff, there are no signs of rust or stiffness.

Just as the arrangements are nicely balanced, there, too, is an equal weighing of harsh and soft, sophisticated and earthy elements in the album. Indeed, Robertson has evenly divided his canvas between the city (e.g., "Rags & Bones," an ode to the sounds of the street(s) and the country (e.g., "Jupiter Hollow," an acknowledgement of the freedom and opportunity associated with an untarnished land or frontier).

While there are elements of pessimism in the album that quite accurately reflect some feelings in society, there is also optimism. It's the same kind of ultimate faith in man's ability to endure that one found in the sometimes pessimistic pages of William Faulkner's novels.

The only disappointing note in "Northern Lights/Southern Cross" is that the Band - which can be a vigorous/celebrative on stage - continues in a generally softer key on record. Only in moments of "Rock of Ages" did the group step out dynamically in a way that would capture the affections of a hard-core rock fan. Thus, the rock side of the group remains largely unheard by those who have listened to its records.

But the Band, in truth, is not strictly a rock group. It combines too many important elements in its music - from country and blues to folk and rock - to be a prisoner of any one of them. It's a stance that has cost the group some commercial impact, but it was the decision that has enabled the Band to produce one of the most valuable and influential bodies of work in contemporary pop music.

In a time where pop music fans seem almost obsessed with pointing out how few veteran rock stars have done anything in the 1970s to match the power and passion of their work in the 1960s, the Band enthusiastically can point to "Northern Lights/Southern Cross." The Band, unquestionably, is back. The irony is that the group may well have never even thought of itself as being away.
---
[History] [Members] [Library] [Discography] [Videography] [Filmography] [Pictures] [Audio Files] [Video Clips] [Tape Archive] [Concerts] [Related Artists] [Merchandise] [Guestbook] [Chat Room] [Search] [What's New?] [Main Page]
Webmaster