The Levon Helm Band
Next Level Events Center, Little Rock, Arkansas, Monday, May 2, 2005
---
By Tim Jones, Porter-Jones Entertainment, Inc.
---
One of Arkansas' favorite sons, rock and roll hall of fame inductee Levon Helm, spent last weekend here in Little Rock, first playing a wedding reception for the daughter of a friend, and then playing for a small private party in the old loading-dock-turned-reception hall in Little Rock's Union Station on Monday night. The well-heeled group of (mostly) politicians and business leaders were treated to an old-school lesson in pure Americana by way of the blues.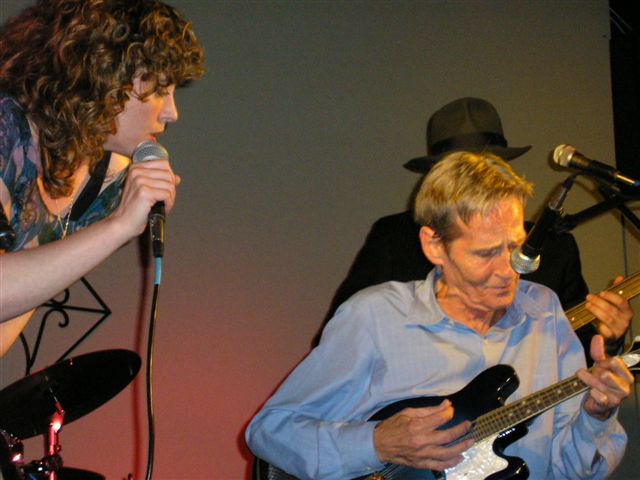 Amy and Levon Helm, Next Level Events Center, Little Rock, AR, 05.02.2005. Photo copyright © 2005 Jack Hill, all rights reserved.
Full of spark and surprise, Helm grinned and joked with old friends and family, as much the gracious host as the evening's star. This was not a concert; it was a party. His eight-piece band of superb musicians was absolutely perfect, but not necessarily perfectly rehearsed. A few tunes stumbled out of the gate, and Helm was quick to stop the tune, coach the crew, and get it right the second -- or third- time. The seat-of-the-pants approach is made easier by a stage full of ringers, and there wasn't a weak link on the bandstand.
Once upon a time, Duke Ellington said, "the drummer is the bandleader." He would know. For a musical legend who casts as a long shadow as Levon Helm does, Duke's quote may seem a little too obvious, unless you were one of the lucky few dozen folks at the party. Being the bandleader, in this case, has nothing to do with celebrity and everything to do with musicianship. Helm could drive the bus with a cymbal ride. His propulsive shuffle energized the room, even as he generously shared the spotlight with a revolving cast of lead singers. The snap and pop of his drum fills hasn't diminished with time. To the contrary, the disarmingly casual yet consummately professional Levon Helm is making music as artful -and just plain fun- as ever.
Best of all, he's singing again! After battling throat cancer Helm didn't sing for several years. Hearing his distinctive voice belt out the opener "Back To Memphis" was joyous. Singer and harmonica ace Little Sammy Davis followed with "She's So Fine," looking and sounding like the second coming of Sonny Boy Williamson in his big bowler hat, his face hidden by his hands as he cradled the harmonica. The band then shifted from blues to soul as Davis nailed Sam Cooke's classic "Bring It On Home To Me," with Levon's daughter Amy Helm providing strong background vocals.
The song selections for the evening ranged from classic blues and R&B to obscure gems given new life by Helm and company. The Dr. John-penned "When The Battle Is Over," a cut from Accept No Substitute, the first album from Delaney and Bonnie way back in 1969, had a gospel-tinged soulfullness that crackled with energy.
Helm recruited none other than Larry Campbell to play guitar, perhaps finding a player with more miles on tour with Bob Dylan than Helm himself. Campbell's pedigree as a musician's musician owes to his appearance on scores of studio sessions and concerts ranging from Paul Simon to Cyndi Lauper to Shawn Colvin. Dylan fans -- and there were definitely a few at the old train station Monday night- know him best as the amazing multi- instrumentalist who helped turn Dylan's "Never Ending Tour" into a late- career artistic triumph. A perfect match for Helm's band, Campbell's rich tone and superb instincts were perfectly complimentary, whether the song called for a full-throttle blues solo or an understated, atmospheric approach. It was great to hear him sing "Crazy `Bout My Baby." Campbell is an excellent vocalist as well as a one of the finest accompanists playing today.
Helm's next turn at the mic was on the Ray Charles classic, "I Want To Know." His superb drumming breathed vitality into the tune. Next, as Little Sammy Davis belted out Willie Dixon's blues jam standard "I'm Ready," Helm pushed the rhythm on the chorus so the song popped into overdrive before a smooth downshift into the verse. Breathtaking. This was not a business-as-usual blues band.
Even if Levon was driving the bus, he had a fine machine to ride: on bass, there was Jimmy Vivino, guitarist for the Max Weinberg 7 from the Conan O'Brien show. His turn for a lead vocal was a highlight as the band laid down a creepy, ominous groove on a down tempo rendition of Dylan's classic "Down In The Flood." Ironically, Larry Campbell -- who often pushed his Telecaster to the point of combustion when playing this tune with Dylan- didn't even solo on this tune, but a swampy baritone sax solo fit the vibe of the song perfectly.
After Amy Helm fired up the crowd with "Shake A Hand," her daddy hit the energetic high point of the night with a robust R&B treatment of a lost folk blues classic, a Sonny Terry/Brownie McGee tune called "The Battle Is Over (But The War Goes On.)"
A softer approach followed as Campbell put down his electric guitar for the only time of the evening, playing fiddle as Helm played mandolin and sang the sweet ballad, "Evangeline." Amy Helm leaned over her father and bobbed to the waltzing rhythm, adding a bittersweet harmony to the chorus. The song, the voice, and the music existed out of time, at once rooted to the distant past yet so immediate and affecting. Amy then slipped into her dad's drum chair -- a first, one of the band said- as Levon played a rollicking version of the old Basement Tapes tune, "Close The Door, Henry." Classic.
The full band returned for another Sammy Davis-led blues number and a finale of "Night And Day," and an encore of "Rip It Up" that had the whole room dancing. It was a boisterous ending to a set that ran a wide gamut of emotions and styles.
The band mingled and milled around the room as the party broke up. I'm not sure if Carmen, the Devil, Miss Moses, or ol' Luke were there, but young Anna Lee was, and old friends made plans to see each other later.
The more or less complete set list (lead vocalists noted):
Back To Memphis - Levon Helm
She's So Fine - Little Sammy Davis
Bring It On Home To Me - Little Sammy Davis
When The Battle Is Over - Levon Helm
Crazy `Bout My Baby - Larry Campbell
I Want To Know - Levon Helm
I'm Ready - Little Sammy Davis
Blues With a Feelin' - Little Sammy Davis
Down In The Flood - Jimmy Vivino
Shake A Hand - Amy Helm
The Battle Is Over (But The War Goes On) - Levon Helm
Evangeline - Levon Helm
Don't You Tell Henry - Levon Helm
Blues number (?) - Little Sammy Davis
Night & Day - Sammy & Amy Helm
Encore: Rip It Up - Little Sammy Davis