Report from a Visit to Levon's Place in New Orleans
---
This article is a travel report written after a trip to Levon Helm's Classic American Cafe in New Orleans. Includes reviews of The Band's concerts there on New Year 1998/99. Copyright © 1999 Stu Hruska.
---
It's just over three weeks since returning from New Orleans and my body has finally recovered from the acute sleep deprivation that I suffered over the New Year's weekend. Our New Year's Eve plan to see The Band perform together live at Levon Helm's Classic American Cafe in New Orleans turned out to be more of an exhilarating adventure than I had even expected. Although for the past few years we've been avidly following the pursuits of The Band's individual members and its various combinations, the last time we actually saw The Band perform live was at their Carnegie Hall appearance in March of 1997. It had crossed my mind over the past few years that that may have been the real Last Waltz for me. Thankfully, that isn't the case.
We arrived in New Orleans during the early evening of New Year's Eve. We had just returned from a family vacation in Mexico with our boys. We dropped them off in New York where one had tickets for a Phish concert at Madison Square Garden and the other a party to go to, and then we headed south again to The Big Easy. We had made our reservations with the help of a delightful lady named Heather from Levon's staff at the Cafe, however, after reading many of the posts in the guestbook during the weeks preceding New Year's we really had our doubts that our plan to see The Band perform together live on New Year's Eve in New Orleans was going to happen. Actually as it turned out the club wasn't finished which was really only apparent, after the fact, when I finally looked at the pictures. We were told that during the day all of the tables were moved out of the club so that the construction crews could go about their work completing the place. But while I was there all I saw were lots of happy people, tables, bartenders, waiters and, the best of all, The Band. We were really pumped.
When we arrived at the lobby of our hotel in New Orleans there seemed to be a thousand college students and alumni of Texas A&M and Ohio State University, each with two beers in their hands standing on line. They were there for the Sugar Bowl game on New Year's Day, and waiting to check into the hotel. I went directly to the house phone to affect a telephone check in, and even I was surprised that it worked. While on the lobby phone, and unbeknownst to the crowd, members of The Band and the lovely Marie Spinosa passed in front of me. I wished Marie a Happy New Year and kissed her hello. She was waiting for Randy to head over to the Club. Randy Ciarlante walked over and we also exchanged greetings and a hug. Rick Danko passed in front of me and headed to the elevator with a bag of McDonalds in his hand. I actually heard him say out loud "Looks like business is picking up here". Before heading up to the room I saw Jim Weider, carrying one of his guitars, walking through the lobby with Richard Bell. I got Jimmy's attention and he said "You made it down, lets party later." I picked up my wife at the end of the check in line and we headed up to our room. What a great start to our weekend. I couldn't have written a better script. This was getting really exciting and New Year's was still hours away.
We arrived at Levon's club around 9:30 and met Heather who we thanked for all her help. She had taken the time to send us all sorts of information about New Orleans, things to do, restaurant reviews and visitor guides. On top of this she was a delightful woman. On our way to our table we spotted several Band fans whom we occasionally see at various New York venues who had also made the trip to New Orleans. Everybody seemed friendly, happy for Levon and conversations were easy to come by. The fellow at the table next to ours was really knowledgeable about The Band and as it turns out he is Heather's husband and also a musician who had jammed at Levon's the night before.
We were completely knocked out by the performances of The Crowmatix. Marie Spinosa, Aaron Hurwitz, Randy Ciarlante, Mike Dunn, Levon's lovely daughter, Amy and his friend C.W. Gatlin who opened for The Band. They did a great job setting the pace for the evening. We moved from our balcony table, overlooking the stage, to dead center stage on the floor as The Band started to play. After seeing Levon and The Crowmatix perform in July it was absolutely incredible how well Levon looked. As Levon glanced down through his drum kit he caught our eyes and gave us a big smile and a point of his drumstick. It was so good to hear the boys playing together again. I would have to say the performance was rough, but I was thrilled by the fact that The Band was playing. It was a happy time hearing the music and the songs that I love the most and being so close to the live performance. Later that night I asked Aaron Hurwitz how the rehearsals had gone and he responded, "What rehearsals?"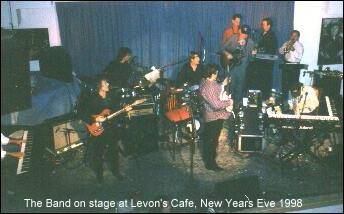 During The Band's break Levon was doing some handshaking, backslapping and working the crowd when I saw him on the balcony. I asked him if I might have a few words with him. I told him we had last seen him perform with the Crowmatix in Chester, New York in July and I was amazed how well he looked that night. Having a nightclub in his name seemed to really agree with him. I reminded him that after his performance in Chester, N.Y. I walked up to him as he was standing in the kitchen of the club and said "Hi Levon, my name is Stu Hruska and we've been introduced and spoken briefly several times". "But perhaps you might remember me because we've been right up there in front of you so many times when you've been performing with The Band over the years." He shot back quickly as if a lyric of a song "I know that." I told him that since that night in July I kept hearing him say over and over, "I know that", as if it were a down beat on a drum when the stick hits the skin and the rim at the same time or a Band song like the songs that are always there and are part of what makes my life as pleasurable as it is. I said " Lee, while I know this has been a very trying year for you because of your health issues. For me its been one of my best." "In my mind recalling you say "I know that" made it an even sweeter year for me." I told Levon that when I thought of his reply it would also remind me to have him actively in my prayers concerning his health. He hugged me and Marcia and said "The prayers really made a difference, look at the results" This was one of the high points of my New Orleans weekend.
We left the club at 5:00 A.M. and got back to the hotel at six after finally finding an empty cab. By four the next afternoon we were on Bourbon Street for a late lunch and some interesting people watching and more music. I must say that I consider myself a very street wise New Yorker, but New Orleans is a place where I felt that I was constantly watching my back. This actually added to the excitement and adventure of the weekend. We went to the House of Blues for dinner and caught Marcia Ball perform two sets while also standing center stage right under her nose. She is a very talented woman who I had only seen on television before. She put on a great live performance. We even bought one of her CD's before we left the club. We made a final stop Levon's Cafe, which I just a few doors down from the House of Blues and by 3:30 A.M. we were standing on line to get some coffee and beignets at Cafe' Du Monde. It was hard to believe there were probably one hundred tables, it was 3:30 in the morning and we are waiting on a line to get into the place. What a city!!
We finally left the hotel for breakfast at two o'clock on Saturday afternoon and it was obvious we were on adrenaline. We spent the afternoon until dark walking through the French Quarter. We passed a street band playing at an intersection and one of my most vivid visual recollections of the weekend was seeing a young boy playing the cymbals on his drum with a screwdriver. At that point my impression of New Orleans was lifted when some good Samaritan returned my cell phone, which I left in a cab, to the hotel. We were very lucky to get a walk in reservation at a wonderful restaurant called NOLA. After making the reservation we did some shopping and I made my "Louisiana Purchase," a beautiful new gray, 100% fur felt fedora to wear when we go to see The Band perform later that night. We were finally seated at our table at NOLA. A few minutes later none other than Jimmy Buffett and his party were seated at a table right next to us, perhaps three feet away. No staring on my part during the entire dinner, but as we left I couldn't help myself. "Jimmy, may I be the first fan to wish you a Happy and Healthy New Year and keep the roll rolling." He asked us our names and where we were from. He said he knew we were from New York. Was that good or bad? He told us hoped to be in New York the following week and that he had a few concerts at Madison Square Garden coming up. We told him we were down for the weekend to hear some music. When he asked whom we had seen I told him we were down to see The Band at Levon's new cafe. He wasn't aware that Levon had opened a new place, but he seemed genuinely pleased to hear the news.
Wearing my new hat we arrived at Levon's to witness the finale of our adventure. On Saturday night the club was not as crowded as it was on New Year's Eve. The place seemed much more intimate and I was particularly excited to hear The Band once again. We were standing front and center when the boys put on the most wonderful, powerful performance that had the club absolutely rocking! After a slow start Rick's voice and playing became stronger throughout the set. Hearing Levon sing "Ophelia" was almost more than I could handle. A significant life moment for me! The looks, stares and smiles that were going back and forth among the guys was terrific to see. It was wonderful to hear the familiar music and lyrics as well as the new music and also some Jimmy Weider material. The Band was half way through playing "Remedy," sweat was dripping from the brow of my new hat and I caught myself and immediately stopped dancing so as not to die. I looked over to Marcia and she was still dancing. She looked beautiful, radiant and happy as she moved and swayed with the music. I swear I saw the girl I met twenty-five years ago. As Jimmy wailed away on the guitar I experienced the absolute best part of the trip for me. Then Rick goes right into "It Makes No Difference" and we danced slowly and hugged each other. Rick looked down and smiled at us. What a terrific moment in time - my wonderful life collaborator and the music that my heart and soul beat to. It was truly an exciting, exhilarating performance. The official set list for the show, although for sure they didn't follow it, was "Stagefright", "Ophelia", "Remedy", It Makes no Difference", "Carnival","Deep Feeling", "Caledonia Mission", "Don't Do It", "Book Faded Brown", "Crazy Mama", "The Weight", "Shuffling Back to Memphis", "Chest Fever", a wonderful vibrant performance by Garth who played hide and seek while I tried to take a close up, "Walcott", a great rendition of "Hand Jive" by Amy Helm, and "Down Home Blues".
After The Band finished their set we grabbed some bar stools and relaxed while listening to music by the Crowmatix with Tommy "Bones" Malone, Richard Bell, Jim Weider, Randy Ciarlante, Mike Dunn, Amy, Marie and a few other performers whose names I didn't know. We stayed until the music stopped for the night, I purchased my souvenir Levon Helm New Years celebration tee shirt and we returned to the hotel for our token sleep before our flight back to New York.
---
[History] [Members] [Library] [Discography] [Videography] [Filmography] [Pictures] [Audio Files] [Video Clips] [Tape Archive] [Concerts] [Related Artists] [Merchandise] [Guestbook] [Chat Room] [Search] [What's New?] [Main Page]
Webmaster