Garth Hudson and Wilco
Newport Folk Festival, Newport, RI, 08.08.2004
---
Review by Hadley Moore, photos by Jared Charney.
---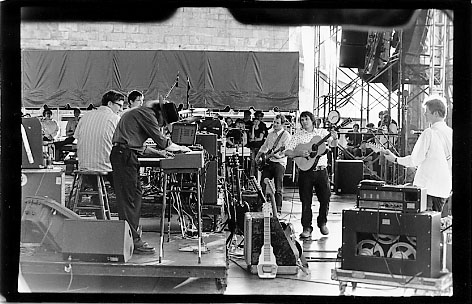 The Newport Folk Festival ended with a starry night. It wasn't so much the twilight that signaled the end of the day's celebration of musical spirit, seeing as though the finale of the show was over by sunset. It was more the cooperative harmony shared between generations on the festival's stage that came to a crescendo when legendary keyboardist Garth Hudson of The Band joined Wilco to close the festival's evening ceremonies.
Early on in the day, Hudson played alongside gospel singers the Dixie Hummingbirds after country, blues, and gospel collective, Ollabelle, opened up the afternoon's promising touch of emotion and spirit. On the Dixie Hummingbirds album Diamond Jubilation, which was released last year to commemorate their 75th anniversary recording, Hudson features on Hammond B3 organ, accordion, and keyboards. Therein exists the special ingredient that Hudson lends to his fellow artists, a talent of which he brought to the stage by what sounded like an imaginary needle and thread of notes, both percussive and explosive at times. This was especially crucial to the Hummingbirds' sound as their dynamic force of dipping and sweeping chorus was complimented by Hudson's weaving through it.
After his set with the Dixie Hummingbirds Hudson stuck around for more performances by fellow festival musicians Doc Watson and Joan Osborne. While watching from the backstage area, Hudson caught the eye of long-time fan, Mike Jorgensen, keyboardist for Wilco. "It's cool to talk about keyboards with someone who knows about their evolution so well," said Jorgensen. He and Hudson ended up talking modern keyboard theorem for a while, after which a friend suggested they get together to experiment with new modules and machinery. Jorgensen didn't waste any time after their conversation. "Should we just ask him if he wants to come up," he asked band mate Jeff Tweedy who walked up looking a little star struck and disappointed, too, as he missed their conversation altogether.
"Sure. As soon as I walk up, he's gone. I mean, sure, yeah. Do you think he'd be into that?" Tweedy asked Jorgensen. With not even an hour to spare before they are to close the festival, they invite Hudson on stage.
"Yeah, I'll do it," said Hudson, "but I don't want to take anybody's place up there". Jorgensen quickly sketched out the keyboard configuration on a set list and marked a star on the Korg CX-3 he'd mentioned just a half-hour earlier. "Can I keep this and hang it on my wall?" Jorgensen asked after receiving the small diagram back from Hudson, who had drawn little black dots to mark the audience in his sketch.
Figuratively, the stars were the brightest for this final performance of the evening. Hudson was the cosmic addition to Wilco's "California Stars," the second to last song in their eighteen-song set. Coming after an electrifying "Poor Places," and after tracks like "Muzzle of Bees", "At Least That's What You Said", and "Theologians" from their new release, A Ghost is Born, "California Stars," made perfect time for absorbing the day's events in its stillness. The bridging of musical generations somehow validated the festival's tradition as Tweedy began to strum the song's introduction.
Hudson's entrance to the stage was the festival at its best. As he strolled over to his keyboard, he stopped first to check out drummer Glenn Kotche's pile of auxillary percussion goodies, picked up a metal sheet gong of some sort, and gripped it like he was panning for gold. But judging by the band's appreciation for Hudson, they would have allowed for anything. When the tip of his black hat emerged from behind the drum set, the audience sensed the night's enchantment and erupted into rollicking cheers of approval. The song unfurled slowly until Hudson set it soaring, and then let it suspend out in the open for a while with his subtle gifts. The moment felt like it could've flown off the stage and into eternity, especially since the audience, along with the members of Wilco, seemed to resist the ending of "California Stars". How fitting, then, that Wilco invited Hudson back for their encore, "Late Greats,." to extend a final gesture of gratitude for his help in closing what was one of most magical nights in festival history.