The Late Great David Powell
---
Text posted by "Mike C" in The Band guestbook, Fri Aug 5 2016
Photos contributed by Garry Powell
---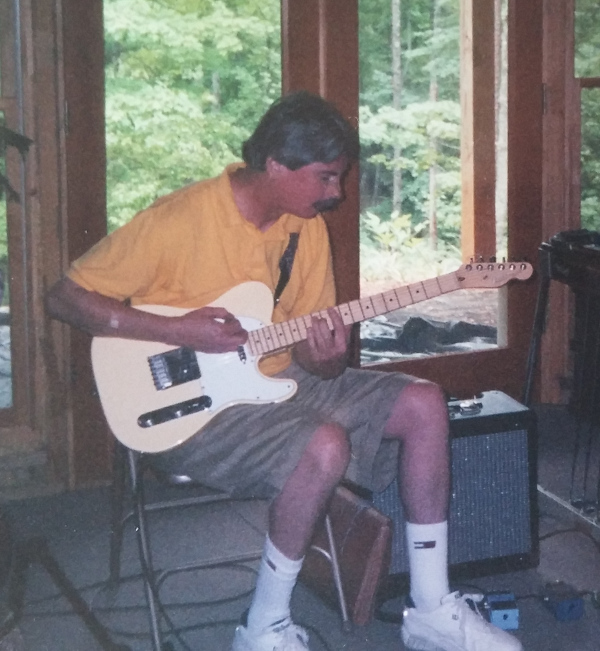 It's shocking to check in here & learn the sad news about David Powell. Reading the many tributes to him only drives home how much he will be missed by all of us.
I knew David, though not well, mostly by virtue of geography as we both live near Atlanta. We "met" first here in the guestbook & had planned to meet in person to catch Levon's Barnburners show in nearby Winder. 1999, I think it was. Levon was there for two nights & for whatever reason we couldn't make the same night. I'm pretty sure both of us posted about those shows here in the guestbook at the time.
But I learned that he played gigs around town so did manage to finally meet him & hear him play several times over the years, although it has been quite a while since I last saw him. My wife & I would try to catch him whenever he was playing somewhere north of Atlanta, close to where we live. Sometimes Don Pugatch, another guestbooker from days of yore, would show up too & David would often join us at our table between sets. It was a two man band. Steve (sorry, but I can't recall his last name) played acoustic guitar & did most of the singing, supported by David on his trusty Telecaster. They knew hundreds of songs. Once when they were taking requests, my wife's sister called out half in jest, "Rocky Raccoon!" And before the first chuckle was out of our mouths, Steve & David had already launched into it. Another favorite of mine was "Stairway to Freebird", their hilarious mashup of the two.
David was just what you would expect based on his presence here in the guestbook. Soft-spoken & polite, intelligent with a wry wit. He seemed to me the embodiment of something you often hear about but rarely see; a gentleman & a scholar.
My sincere condolences to his family & his friends, those who knew him well & loved him. This guestbook, and the world, is a poorer place for the the loss of such a good person.
Rest in peace, David.