A Night to Remember
---
by Jojo Fox
---
On June 17, 2004, my husband Tom and I drove to Slim's in San Francisco to see legendary Band keyboardist/saxophonist/accordion player, Garth Hudson, perform. He was accompanied by his wife Maud on vocals. It was a rare opportunity to see this musical legend on the West Coast, in a small intimate setting. John Hettle accompanied on bass and Jim Nichols on guitar.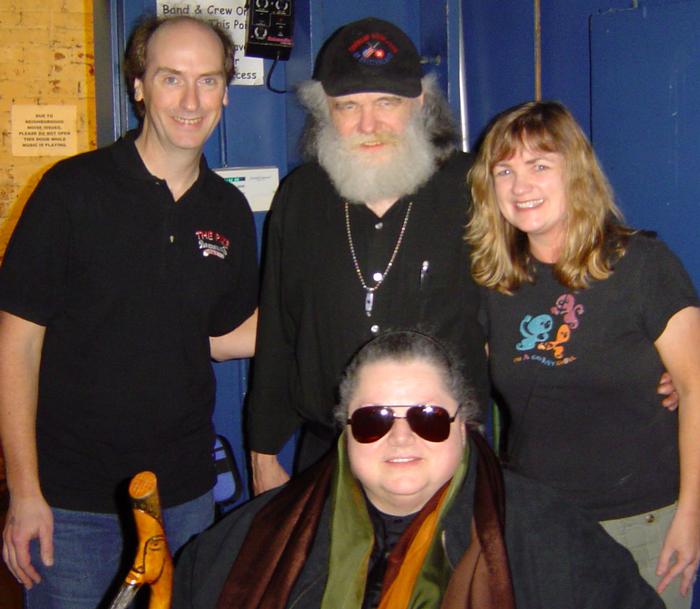 Jojo and her husband Tom with Garth and Maud Hudson at their San Francisco show at Slim's on 6/17/04.
Having re-discovered the Band about a year ago, I had in particular zoomed in on all the amazing textures and atmospheres Garth added to the songs, including his genius-level virtuosity on many solos. My only complaint is that he wasn't LOUDER on a lot of their recordings. But that makes it fun to listen to, discovering something new every time. Garth was the member of the Band (then called the Hawks, backing up Ronnie Hawkins) who told his parents in the early 60s that he had joined a rock band, much to their dismay (supposedly he was something of a child prodigy and they had high hopes for a more respectful profession for their son). So the story goes that Garth charged the other Band members for music lessons, which placated his parents for awhile.
Garth's style is like no one else on earth. He can interweave jazz, classical, gospel, rock, and honky-tonk seamlessly into a few bars of music. He has the appearance of a mad professor when he plays, weaving back and forth, hovering over the notes as he plays them, making comments under his breath ("THAT's where THAT goes"...or "THEN it takes off here..."). He appears shy in person until you get talking with him. He's got a great sense of humor and is very engaging.
Maud, his wife, has a deep, rich voice with an intense power she seems to control as if it were on a leash. She can send it up into the cosmos in a booming arc at a moment's notice, or sing so softly and intensely that you're on the edge of your chair, straining to catch every nuance. I was completely floored by her talent. They covered a wide range of songs, from jazz standards to gospel to blues, as well as oddities like "Dark Star," the Grateful Dead song, the old Coasters song "Youngblood" (with Garth's inimitable delivery on the "lookie there" lines trading off with the others), and even poetry. With the help of the guitar and bass, Garth delivered a version of "I Got Rhythm" as jazzy, intricate and clever as I've ever heard. Another great song was the Dylan folk ballad "Blind Willie McTell," with a haunting vocal by Maud. Garth at his keyboard (a Yamaha and Roland on top) playing alone were some of the best moments for me.
The beauty of Garth's playing, the intensity/softness of Maud's voice, it was at times overwhelming. It was especially moving to hear the Band tribute songs, of course. ("Shape I'm In" for Richard Manuel and "It Makes No Difference" for Rick Danko). We all sang along to "The Weight," every single word (not just the "Take a load off, Fanny" chorus), every single person in the room, at Maud's suggestion. Garth played sax on a couple of songs and also the accordion (I even thought I heard a hint of the "When I Paint My Masterpiece" intro interwoven in there). The accordion jokes came after the show when I told him I'd heard he had some good ones. "What do you call perfect pitch? When you throw an accordion 50 feet into a dumpster without hitting the rim, and it breaks the banjo." Something like that. I'm terrible at remembering/retelling jokes. Garth has a reputation for throwing (haha, pun intended) these jokes out during shows.
We stayed around and got to chat with Garth and Maud for awhile after the show. Both were talkative, funny, and made us feel completely at ease. I walked up to Maud, introducing myself as "Jojo from the Band guestbook" and she laughed and gave me a hug. I stood next to Garth, waiting patiently for a chance to tell him how much his music meant to me, and I got that chance. He looked at me intently, smiling, and asked questions about my equipment. I told him about my synthesizer and about my Baldwin upright piano. He's VERY interested in old instruments, and it's been said that he has a knack for taking them apart to figure out how they work (like organs and stuff), then putting them back together again. He gave me a brief lesson on types of organs (Lowrey is the type he used the most with the Band, but he used many others including Hammond B3, and some I'd never heard of.) I stood there talking with Garth for about 15 or 20 minutes. When he gets talking to someone, he really talks to you. He took a quick break from our conversation to sign an autograph or answer a question from the others that were standing nearby, but then he picked up right where he left off with me. I was almost floating, it was all such a thrill. He'd look at me with this head-tilted-sideways type of expression after asking a question, and I could barely keep from blurting out, "I KNOW that look! I've seen you do it in the Last Waltz interviews, and in other interviews!!!" But I somehow managed to maintain my cool. He kindly obliged when I had him sign my "Music From Big Pink" Band CD: "Thanks Jojo, Garth Hudson."
During this time Tom talked with Maud and a couple from England on their honeymoon, who actually had posted at the Band guestbook that they would be catching the San Francisco show. I chatted with them too. They were VERY nice, both also musicians, and I couldn't help pointing out the married musicians in the nearby proximity - them, Tom & I, Garth & Maud. Then we discovered that they had actually performed at the KPIG studio in Watsonville in 2001 (about 4 miles from our house) after a show up at Henfling's in Ben Lomond. Small world. They had a digital camera too, so we took their photo with Garth & Maud, and they took ours for us. The staff at Slim's had told people to leave several times by now (we were standing at the side of the stage this whole time), so we said our goodbyes, Garth gave me a hug and so did Maud. Truly a 'Beatle' moment like I've never experienced before. Maud said, "Jojo, you need to come back east and see us sometime! Meet Lil too!" (their friend and fellow Band guestbook member). Garth gave me some good advice, "Keep practicing, and keep listening; not just to THAT stuff" (referring to the Band). I assured him I listen to a lot of different stuff, to which he nodded in approval. I wanted to think of something obscure to throw out there, as I know he has a fondness for things like Bulgarian music, but we were being told to leave the final time and my mind went blank. I'd also blanked out earlier on telling him how much I loved his little cascading piano textures and solo in "Thinking Out Loud", a lesser-known Band song, but I went blank on that song title as well. Luckily I held it together for the rest of the conversation! It was truly a great night.