"Music According to Garth"
Garth Hudson lecture and concert with Maud Hudson, 05.06.2008, University of Lund, Sweden
---
Gig photos by Lars Brundin, copied from Sydsvenskan
---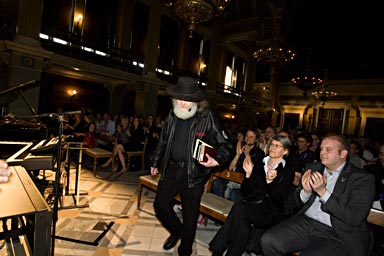 Garth entering the podium
Garth gave a fascinating and untraditional lecture on music history at the beautiful old University aula in Lund, Sweden, on Tuesday May 6th, 2008. Focusing mainly on the early pioneers of jazz, bop and rock'n'roll -- saxophone players in particular -- he entertained the full-capacity audience with anecdotes, details and personal memories from a long life as a creative artist and working musician, underlining his points with breathtaking improvisations on a stack of keyboards and a grand piano.
Garth Hudson lecturing at Lund University
Maud Hudson came on stage after the lecture and immediately brought us to tears with a beautiful version of "It Makes No Difference." The Hudsons played a wide range of music -- highlights were the very personal rendition of "Blind Willie McTell," Garth's accordion improvisation, and, of course, "The Weight." This is actually the first time we've seen the Hudsons perform as a duo -- highly recommended [photos from the Garth/Maud concert will appear here soon.]
Garth and Maud received thundering applauses throughout their set, and then, after Garth finished a nearly two-hour long show with a blistering version of the Mendelsohn Wedding March, they got a long, standing ovation from the crowd.
Later, we were invited to join the Hudsons and the arrangers -- mostly young students entertaining us with traditional Swedish drinking songs -- to a nice meal (pytt-i-panna) with a generous flow of beer and schnapps (aquavit). After a while they even broke the very strict Swedish smoking laws and let Garth light up his corn cob pipe at the table!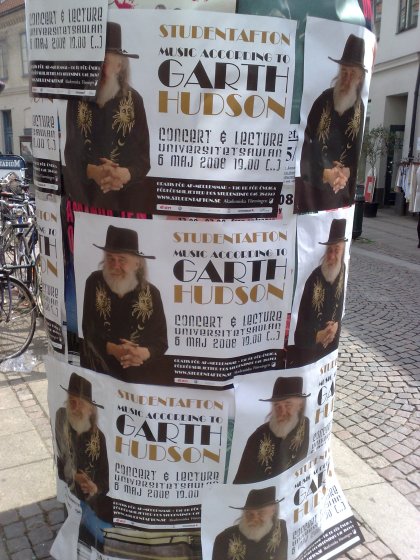 Show posters in Lund