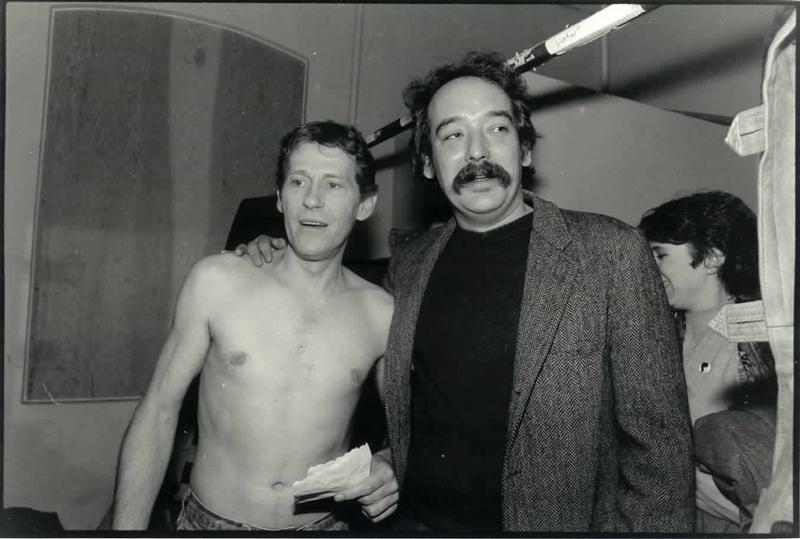 As I continue to sift through the rubble of my life, I found this beaut. It's from the same night as the other shot and backstage pass, the Auditorium Theater in Chicago in November of 1983. A sidelight: Richard references the gig in the Ruth Spencer interview on the site.
Some background: Pictured with the shirtless Levon is Jim MacNamara. Mac was one beautiful guy, one of the most interesting characters I've had the pleasure of knowing. I met him in 1978 when he was booking a place called Gaspars. He had worked for Richard Harding at the famous Quiet Knight in Chicago, where he made a name booking Bruce, Weather Report, Jackson Browne way before they became big. He was a genius booker and he loved the musicians, treating them better than anyone in town.
Mac booked my group to open for Rick and Levon in March of 83 which is where I met them. I worked with Mac on the Auditorium Show which he produced and booked, and we saw the boys many times in the subsequent years.
When Mac's dad died, Mac fell off the deep end. I went to Philly to try to help. I took him to Gettysburg for the day then we saw The Band at the Valley Forge PAC that night. That's the last time I saw him. Haunted by personal demons, Mac passed soon thereafter.
I'm sure Levon has some good Mac stories.
A picture of two of my favorite people at a really nice time of my life.
--Pat Brennan, October 2003