Levon's Midnight Ramble, 02.11.2006
---
All photos by Paul La Raia.
Photos property of Levon Helm Studios, all rights reserved.
Full-size photos available from levonhelm.com
---
The performers at Levon's barn this night were:
The Levon Helm Band
Elvis Costello and Allen Toussaint Steven
Bernstein's Millennial Territory Orchestra
The Alexis P. Suter Band
Audience Review
It was a beautiful night, and everyone should make an effort to get to at least one of these things. You pretty much sit in what one of the performers called "Levon's living room" (actually a modified barn)and spend 5 or 6 hours with Levon and his guests, in an informal and easy atmosphere of joyful music-making. Of all stripes. There was a jazz band, a rhythm 'n blues lady, Levon doing "rootsy" stuff, Levon doing rock 'n roll, Allen Toussaint doing his piano rolls, Elvis Costello doing new songs he's working on with Toussaint - the whole cast of bands and characters reconfigures for each set, with a lot of seeming spontaneity. Levon's the master chef for his set - calling out the menu and ingredients as the spirit moves him - and, man, does the spirit move him! His presence was the key-note of the evening - he just radiated pleasure and happiness in what was happening and swept everyone up in a kind of collective merriment.
He came out and did a set on guitar, with his daughter Amy playing and singing with him. Elvis was on rhythm guitar, very unassuming, and just followed along. Diana Krall came out and did assorted syllables with Amy on some of the songs. He did "Atlantic City" and "Man of Common Sorrow" and an awesome "Don't Ya Tell Henry." He's in fine vocal form - there's no holding back, it's full throttle. His voice is a national treasure - "he should leave it to the Smithsonian" (as Bob said of Brian Wilson's ear). When he switched to the drums the set became more rock 'n roll; listening to disc 1 of the Band box today, it makes me realize how full circle he went - back to the Ronnie Hawkins and the Levon & the Hawks recordings. It's like he's gathering up every type of music he's ever made and loved and letting it tumble out with a generous prodigality. A harp player joined him and did the blues equivalent of "1000 Views of Mt. Fuji" - about 10 versions of your basic blues vamp - Levon kept yelling out "Do one more!"
At some point, Allen Toussaint came out and led the band for a bit, then Elvis took center stage and did his new songs ("Ascension Day's" a ... ummm... gem!). Then everyone came back out for a grand finale - which went on and on. "Rock and Roll will never die" was the presiding deity of the finale.
Just recounting sets and set-lists doesn't really do justice to the evening though - it's shot through with a certain luminosity of spirit that has to be experienced - sorry, all you "had-to- be-there"-agnostics - but in this case it's true, it was a musical warts-and-all (false starts, mis-steps, "what the hell is he playing now?," bemused musicians looking at each other in grinning bemusement) thing, which will not sound on tape anything like it felt in person.
Two little moments that stood out: Levon had a piano/accordion man who ceded his seat at the piano to Allen Toussaint and stood behind him on accordion while Toussaint was playing. At one point, I guess Toussaint was trying to figure out where Levon was going and he leaned back to follow what the accordian was doing - after a moment, a exceedingly bright grin of appreciation and pleasure broke out on his face at what Mr. Accordion Man was playing - he looked back at him with this big smile of approbation on his face and then turned back to his keyboard and picked up the riff from the accordion. That kind of encapsulated the tenor of the proceedings - these guys taking pleasure in the collective art of music-making and sharing it in an unabashed way in this mercifully "unprofessional" setting.
The other was watching Levon's daughter give the unfailingly right type and degree of support to her Dad in every moment of the evening - handing him the guitar or mandolin he needed, lending her voice, signalling the other musicians; at the heart, this was a family affair - and it was great to be able to share in this family's bounty for a few hours, on a winter's evening. We left the barn at around 1 am - to a gathering snowfall...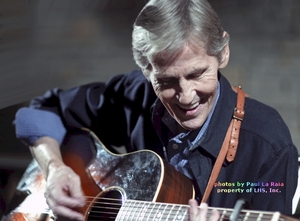 Levon Helm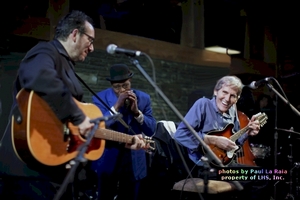 Elvis, Little Sammy Davis, Levon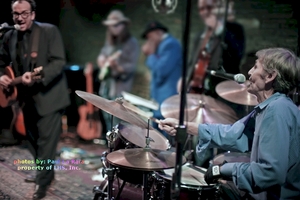 Elvis and Levon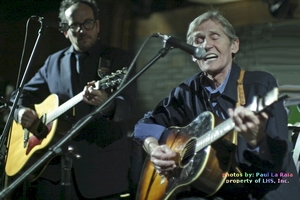 Elvis and Levon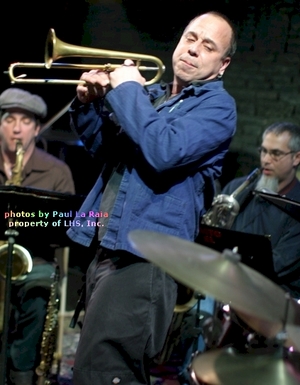 Steven Bernstein's Millennial Territory Orchestra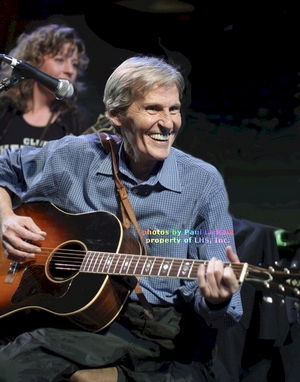 Amy and Levon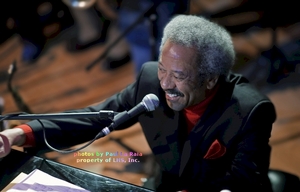 Allen Tousaaint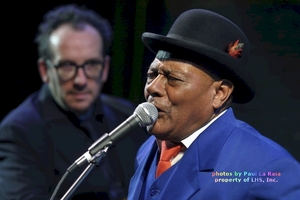 Elvis and Little Sammy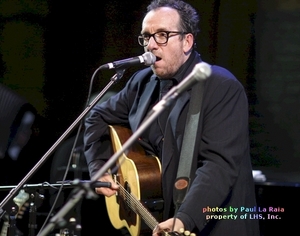 Elvis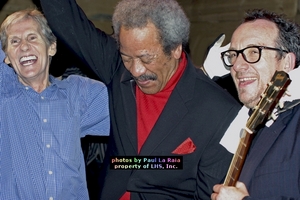 Helm, Touissaint, Costello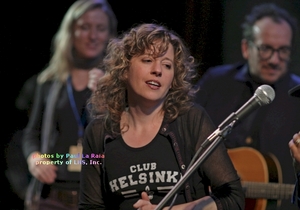 The lovely Amy Helm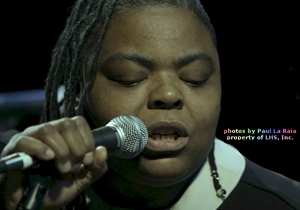 Alexis P. Suter