Levon's Midnight Ramble, 09.10.2005
---
by Joe Lore, posted in the "Book Faded Brown", September 2005
---
The performers at Levon's barn this night were:
The Levon Helm Band with Little Sammy Davis,
Alexis P Suter,
The Muddy Waters Band with Pinetop Perkins, Bob Margolin, Luther Johnson, Jerry Portnoy and Willie "Big Eyes" Smith.
To describe such an evening is difficult. For me it was just a show that you had to be at to know what I mean when I say, "The best Ramble ever" or, should I say a musical history making gathering of talent in one place at the same time. You have to hear it LIVE!!!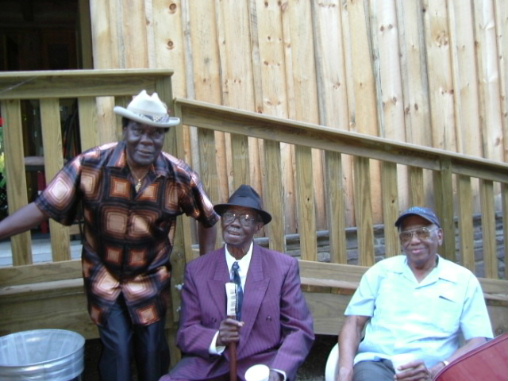 Luther"Guitar" Johnson, Pinetop Perkins, Calvin "Fuzz Box" Jones
The play between the players such as Levon Helm and Willie "Big Eyes" Smith drumming together, with Mike Merritt on bass, all sounding like a freight train roaring through a peaceful night. Jimmy Vivino & Bob Margolin dueling it out on guitars. Pinetop & David Maxwell on piano hitting the ivories together. The horn section, trumpet & sax wailing. Little Sammy on harp throwing in his leads and fills. The smiles and elation on the faces of the players & audience told you this is it. And this was just The Levon Helm Band's set.

Little Sammy Davis and Dane
Earlier you had the "Muddy Waters Band" with Pinetop, Bob Margolin, Willie Smith, Calvin "Fuzz Box" Jones, Jerry Portnoy, and Luther "Guitar" Johnson. A legend line up of blues players who played behind Muddy Waters and hadn't played together in years. It was musical history last night and a lineup of players who, sorry to say, may never be seen together again given the ages of the majority of the players. After they did "Kansas City", Bob Margolin leaned over to Levon in the midst of the applause and said, "Who'd think we'd be playing that 30 years later" Like I said, musical history !!!!! Grammy winners and multiple W.C. Handy award winners in one room playing together.
To see the old timers Perkins, Jones, Smith, Davis and Johnson just sitting around before the show outside in the cool night air reminiscing about old times. Just unbelievable !!
Alexis Sutter and The Bennett Bros. tore it up as they usually do. This band is good and need more recognition. They did a fine rendition of "Louisiana 1927" Sutter's voice is moving. The woman can sing. There is NO doubt about it.