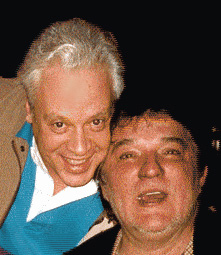 Rick Danko and Ed Voci at the Cubby Bear North, Deerefield, Illinois on December 5, 1999 at 12:15a.m., after Rick's performance with Professor Louie. This may be the last photo taken of Rick.
Photo copyright © 2003 Edward Voci.
From The Band guestbook the day after Ricky left us:

Posted on Sat Dec 11 00:11:26 CET 1999 from unknown-31-193.vedderprice.com (204.48.31.193)
Nancy & Ed
From: Chicago, IL


We saw Rick Danko perform just last Friday night at the Cubby Bear in Chicago. He sang like an angel; he sounded better than ever. The performance was so beautiful we went back to see him again the next night at Cubby Bear North. Now we're glad that we did. Rick was the most open and gentle of musicians. Rick, we will miss you greatly. With love, from Nancy & Ed.