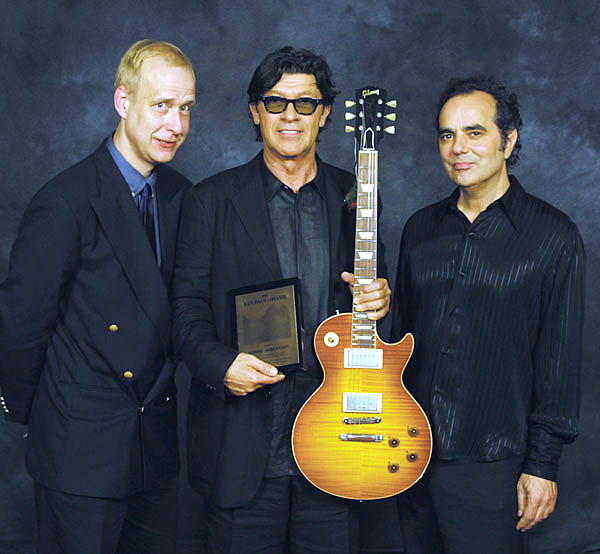 Henry Juszkiewicz, chairman and CEO of Gibson Musical Instruments (left), Robbie Robertson (center) and Daniel Lanois (right) at the 18th Annual Technical Excellence and Creativity (TEC) Awards, October 7, 2002, held at the Wilshire Grand Hotel in Los Angeles. The charity event, hosted by actor and comedian Harry Shearer, recognized outstanding achievement in music and audio production and product design.
Renowned record producer Daniel Lanois presented the coveted Les Paul Award to musician/ composer Robbie Robertson. Lanois, a musician/producer whose deeply stirring, sonically pure soundscapes helped create some of the most groundbreaking works by artists such as U2, Bob Dylan and Peter Gabriel, and whose solo performances have drawn a devoted following, has worked with fellow Canadian Robertson since he produced his first self-titled solo album in 1987. The Les Paul Award, sponsored by Gibson Musical Instruments, is presented to artists and others whose body of work exemplifies the creative application of audio technology.
Robbie Robertson displays a custom Les Paul guitar presented by Juszkiewicz.