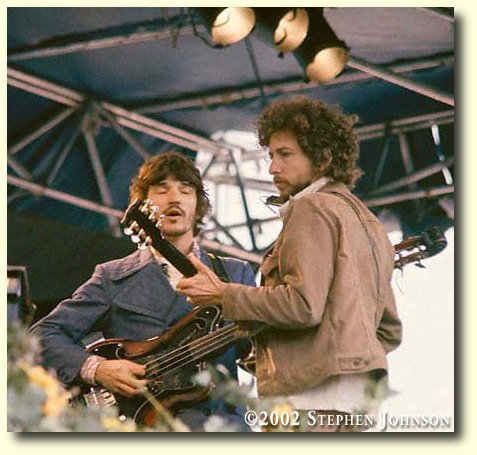 Photo by Stephen Johnson.
High-quality print available for purchase.
Copyright 1976 by Stephen Johnson.
Used with permission from the copyright holder.
Rick Danko and Bob Dylan, S.N.A.C.K. Benefit Concert, Kezar Stadium, Golden Gate Park San Francisco, CA, 03/23/75.

This was a one-day festival in aid of Bill Graham's S.N.A.C.K. (Students Need Athletics, Culture and Kicks) organization. Neil Young, with his regular sidemen Ben Keith and Tim Drummond, performed together with Bob Dylan, Rick Danko, Garth Hudson and Levon Helm. The Band trio did "The Weight", and "Loving You Is Sweeter Than Ever", "Ain't That a Lot of Love", and was present on the all-star finale "Will The Circle Be Unbroken?".