JOHNNY HARPER & CARNIVAL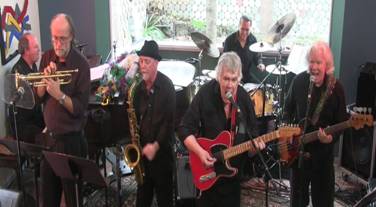 PLAY THE MUSIC OF THE BAND
In these hot new live video performances now on YouTube:
4 GREAT SHOWS STAGED ONLY IN MAY-JUNE 2014!
SAT. MAY 3 IN OAKLAND:
Avonova 417 AVON ST. (near 51st & Telegraph)
AFTERNOON SHOW! 3 PM - Donation $15 - All ages welcome!
E-mail for reservations: go to RSVP at www.avonovamusic.com

SAT. MAY 10 IN SAN FRANCISCO:
St. Cyprian's Church 2097 TURK ST. (at Lyon) - (415) 424-5238
8 PM - Tickets $15 in advance, $18 at the door
TICKETS: http://www.brownpapertickets.com

FRI. MAY 23 IN SEBASTOPOL:
Sebastopol Community Cente- 390 MORRIS ST. - (707) 823-1511
8 PM - Admission $15 - PRESENTED BY North Bay Hootenanny
Tickets at http://www.seb.org

FRI. JUNE 13 NEAR SANTA CRUZ:
Don Quixote's - 6275 HWY. 9, FELTON CA - (831) 603-2294
8 PM - Admission $12 adv. $15 door
TIX, Reservations call number above / donquixotesmusic.com
GET YOUR TICKETS NOW! THESE SHOWS MAY SELL OUT!
The Band's music has really not been performed seriously since 1976 ("The Last Waltz") by any group west of Woodstock, New York!

Now Johnny Harper & Carnival bring this great music back to California in these shows marking the 45th anniversary of The Band's debut -- their very first gigs playing as The Band and playing their brilliant original songs -- which took place right here in San Francisco in 1969!

Hear brilliant arrangements of your favorite Band classics -- "The Weight," "The Night They Drove Old Dixie Down," "I Shall Be Released," "Up On Cripple Creek," "The Shape I'm In," Life Is A Carnival," "King Harvest (Has Surely Come)," "Rag Mama Rag," & many more!

Plus later-period masterpieces like "Acadian Driftwood" and "Ophelia" and some amazing gems you may have forgotten, including "Daniel and the Sacred Harp" which The Band themselves never performed live!
JOHNNY HARPER & CARNIVAL
re-create The Band's brilliant vocal style with 3 alternating, overlapping lead singers (wait till you hear Neal's falsetto lead on "I Shall Be Released"!)
get down on those funky Levon Helm-Rick Danko grooves
play blazing guitar and organ solos in the Robbie Robertson/ Garth Hudson tradition
and add exciting new touches to The Band's brilliant arrangements!
"The best things always disappear"
-- Robbie Robertson in "Ophelia"

This is a limited run of shows before Johnny & his group return to performances featuring their original material (CD due out in June!).
"Catch This Cannonball"
Before She Moves On Down The Line! Come Out And Celebrate
The Band's Music With Us!
Call any time... always glad to hear from you... Keep the faith and keep rockin'!
Johnny
510-710-5969
jjmusic@ix.netcom.com
http://www.cur-ville.com/johnny_harper.html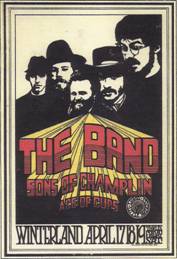 (Original poster for The Band's legendary debut at Winterland)
(L to R in picture: Richard Manuel, Levon Helm, Garth Hudson, Rick Danko, Robbie Robertson)