The Band's Garth Hudson Donates Beard to Save Rainforest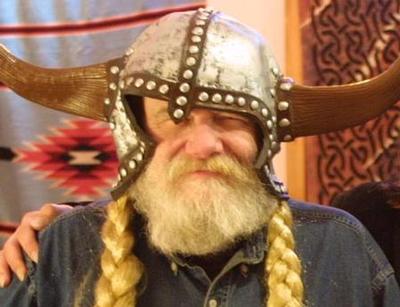 Garth Hudson
West Saugerties Journal, 04.01.2004 - Many of us remember him as the mystical keyboard wizard from Martin Scorses's The Last Waltz, the documentary about rock legends The Band and their final concert in 1976. Garth Hudson, who has lived in and around Woodstock, NY, since the '60s, was the musical genious of The Band. The big beard that he has had for more than 35 years was one of the groups trademarks. This weekend, for the first time since The Band toured with Bob Dylan as the Hawks in 1966, we will see a beardless Hudson again.
The 66-year old world-famous musician, who released his first solo album The Sea to the North two years ago, claims in a new press release that he will shave off his beard in public and auction it off to raise money for the preservation of the rainforest in Brazil. "We have been concerned about the future of our rainforests for a long time," says Hudson's wife Maud, "and we finally decided to do something to wake people up!"
The event takes place this weeked, Saturday April 3rd, in Woodstock, NY, at noon. A "ceremonial shaving" will be done by Maud Hudson assisted by two local hair-dressers, at the Village Green in the town center. Locks of Mr. Hudson's beard will then be auctioned off to the public and will later be put up for auction on Ebay. All money raised from the auctions will go directly to The Rainforest Site.
The Band's drummer and singer Levon Helm, a resident of Woodstock and a friend of Garth Hudson since the early '60s, will be present at the ceremony. "This is a great idea and a fun way to raise money for a good cause. I guess it's time for me to grow back my beard, too", Helm laughs when asked for a comment.