Garth Hudson: The Sea to the North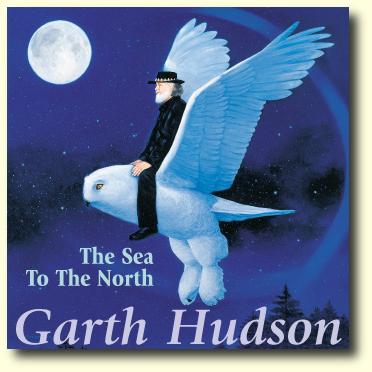 Cover art copyright © Maud Hudson 2001
[Cover art] [Garth Hudson t-shirt] [Woodstock Records] [European CD]
"I feel fortunate for this opportunity to bring you my own music. During the recording process, I envisioned it being two guys in a canoe in the year 1740 or a Paris fashion show or an ice skating routine or mountain climbing or driving a vehicle or being part of that special moment. I hope The Sea To The North makes you feel good and takes you somewhere you've never been before -- somewhere you will want to return to often. Happy trails..."
--Garth Hudson
The US pressing of Garth Hudson's first solo album (if you don't count 1980's Our Lady Queen of the Angels,) is available for purchase from Woodstock Records. The Sea to The North has also been released in Canada, Japan and Europe.
I can't sleep, got my first listen to Sea an hour or so ago. Here are some first impressions. Track 1: People Get Ready meets Green Hornet, or Flight of Bumble Bee, and Maud is the Ginger Bread Lady of a Siren. Track 4: I'd like to hear Garth's Redboy. Retreat and retool Robbie. Track 5: Where's the bootleg hiding of all the Jam outtakes. Crowmatix should be recognized as best band in 5 years if they keep it up. Garth's vocals evoke the spirit of Jim Morrison, if he were alive, 85, and came back with the intelligence of Jerry Garcia. Track 6: Lullaby. Piano bar at the Hilton in Heaven can't bring this. Can feel a Malibu sunset. Track 3: The best (Q is right, and delivers best customer service by the way, yeah Breeze Hill.) Maud, if you get weird looks now when people start shaking your hand, it's because they will be trying to hide the fact that they recently made love to this track. Track 2: Luv the deep sounds. I'm thinking abandoned boat in tropical island, in a good Gozilla movie, just rockin' with breeze. Overall: yes, a sax CD and so much more. I can't wait to hear what others have to say about the CD which everyone is gonna be talking about. I just want it to snow now, so I can stoke a fire and watch the flames shadow my walls while I listen to this one again and again...
--Dave Z, The Band guestbook, July 2001
For more about this wonderful album, see the reviews by Peter Viney and John Donabie.
Tracks
| | | |
| --- | --- | --- |
| 1. | The Saga of Cyrus and Mulgrew (G.Hudson/M.Hudson) | (534K) |
| 2. | The Sea to the North (G.Hudson) | (601K) |
| 3. | The Breakers (G.Hudson/E.Andersen) | (638K) |
| 4. | Third Order (G.Hudson) | (586K) |
| 5. | Dark Star (Garcia/Kreutzmann/Lesh et.al.) | (540K) |
| 6. | Little Island (G.Hudson) | (613K) |
Credits
Garth Hudson, keyboards/ piano/ organ/ melodica/ accordion/ saxophones/ vocals/ producer/ mixing
Maud Hudson, vocals/ graphic design/ art director
The Crowmatix:
Aaron Hurwitz, keyboards/ producer/ engineer
Gary Burke, drums
Mike Dunn, bass
Mike DeMicco, guitar/ sitar
Jim Eppard, guitar/ sitar
Marie Spinosa, percussion
Levon Helm, drums/ explosion design
Larry Packer, violin
Tommy Spurlock, guitar/ engineer
Willie Weeks, bass
Scott Musick, drums
Dan Brubeck, drums
Michael Been, guitar
Purna Das (Bauls of Bengal), khamak
Manju Das, ektar
Babu Das , percussion
Badal Roy, tablas
Scott Musick (The Call) - drums
Michael Been (The Call) - guitar
Richard Wall, liner notes
Quentin Ryan, executive producer
Robert Brower, cover painting
Joe LaMay, graphic design
Dave Cook, engineer
Danny Sheehan, engineer
Bob Ludwig, mastering
Tom Flowering, piano tuning
Bill Putnam, engineer
Scott Petito, engineer
Lee Gabites, cover photo
John Scheele, cover photo
George Lembesis, cover photo
Garth Hudson - The Sea to the North - 2001 - Breeze Hill Records 0011-2
Japanese CD: DreamsvilleJapan YDCD-0070, 2001
Canadian release by O.P.M./Woodstock Records/EMI, July 2002
European release: CoraZong Records 255039, 2003
---
[History] [Members] [Library] [Discography] [Videography] [Filmography] [Pictures] [Audio Files] [Video Clips] [Tape Archive] [Concerts] [Related Artists] [Merchandise] [Guestbook] [Chat Room] [Search] [What's New?] [Main Page]
Webmaster