Various Artists: 20 Years of Stony Plain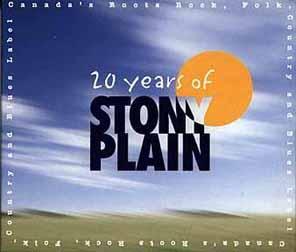 Twenty years is a remarkable track record for any independent label living in the modern age, let alone one that specializes in never-commercially-fashionable roots music while working from the industry Mecca of Edmonton, Alberta. As committed and timeless as keynote artists Ian Tyson, Cindy Church, Amos Garrett, Maria Muldaur, Dutch Mason, Long John Baldry, and Jr. Gone Wild, Stony Plain celebrates this anniversary milestone with a two-disc, 40-track collection that samples its 240-release roots rock, country, folk, blues, R&B, and alternative-pop repertoire.
Disc one of Twenty Years of Stony Plain zeroes in on country/folk, including choice tracks from Tyson (a pair of duets with Tom Russell and Suzy Bogguss), Steve Earle, Grievous Angels, Doug Sahm with the Formerly Brothers, Bobby Charles, a Japan-only Garrett-Muldaur duet, a previously unreleased Rita Chirelli-Prairie Oyster collaboration, and splashes of alternative spice from Jr. Gone Wild and Spirit of the West.
Disc two targets the blues, led by Mason, Duke Robillard, Jimmy Witherspoon, the Holmes Brothers, Jim Byrnes, Downchild Blues Band, Paul James with John Hammond, and harmonica legend Walter Shakey Horton -- the first session ever produced (in 1972) by label founder and big-kid music fan Holger Petersen, who still captains the Stony Plain ship. From Stony Plain's reissues catalogue, 20 Years represents the likes of Winchester's and Great Speckled Bird's classic, eponymous debuts (folk-rock and country-rock landmarks respectively), King Biscuit Boy and Crowbar (look for upcoming compilations for each), and Ellen McIlwaine's "I Want Whacha Got" -- the set's eye-popping, slide guitar/blues-belting scorcher. While the collection touches on the full 20 years, over half the selections are culled from 1990 to the present. As such, if something here catches your ear, it's likely to still be in print. In another astute bit of marketing, five tracks serve as teasers from upcoming Stony Plain releases by Long John Baldry, Roosevelt Sykes, Professor Longhair, Johnny Shines, and Lowell Fulson.
-- Roch Parisien, All-Music Guide
Among the 40 artists presented on this Canadian 2CD compilation are Amos Garret and Maria Muldaur, with a previously unreleased live in Japan duet version of Bobby Charles and Rick Danko's "Small Town Talk" from Rick Danko's first solo album.
Tracks
Disc 1

Mystery Train Part II - Steve Earle
Long Long Time To Get Old - Great Speckled Bird
Crossing The Causeway - Grievous Angels
Sleeping Alone - Cindy Church
Guy Who Came In From The Cold, The - Jr. Gone Wild
Small Town Talk (Charles/Danko) - Amos Garrett/Maria Muldaur
You Were On My Mind - Sylvia Tyson
Political - Spirit Of The West
Brand New Tennessee Walt - Jesse Winchester
Rock 'N' Roll Dreams - Gary Fjellgaard
Heartbreak Of The Week - Rita Chiarelli /Prairie Oyster featuring Russell deCarle
How Long Can She Last - Webb Wilder w/ The Beatnecks
Wrecked On The Highway - Paul Hann
Car Hank Died In, The - Austin Lounge Lizards
Banks Of The Old Pontchartrain - Doug Sahm w/The Formerly Brothers
Rainin' In My Heart - Jo-El Sonnier
Jealous Kind, The - Bobby Charles
This Time, Time - South Mountain
Navajo Rug - Tom Russell/Ian Tyson
'Til The Circle Is Through - Ian Tyson

Disc 2

I Tried - The Duke Robillard Band
Playful Baby - Jimmy Witherspoon
Tell Me Again - The Holmes Brothers
Don't You Feel My Leg (Don't You Get Me High) - Maria Muldaur
Oh Well, Oh Well - Lowell Fulson w/members of The Powder Blues Band
It's Too Late Brother - Long John Baldry
Going Going Gone - Dutch Mason
Great Change - Gospel Hummingbirds
Monkey See, Monkey Do - Coco Montoya
That River - Jim Byrnes
New York Boogie - Roosevelt Sykes
Wrong Lake To Catch A Fish - Amos Garrett
Rockin' Little Boogie - Downchild Blues Band
Mighty Crazy - King Biscuit Boy
Badly Bent - King Biscuit Boy/Crowbar
Mess Around - Professor Longhair
I Want Whacha Got - Ellen Mcllwaine
Blue Winding Mind - Johnny Shines/Sugar Blue
Gotta Gimme Some Of It - Paul James w/John Hammond
Shakey's Edmonton Blues - Shakey Horton w/ Hot Cottage
Various Artists - 20 Years of Stony Plain - 1996 - Stony Plain SPCD 1230
---
[History] [Members] [Library] [Discography] [Videography] [Filmography] [Pictures] [Audio Files] [Video Clips] [Tape Archive] [Concerts] [Related Artists] [Merchandise] [Guestbook] [Chat Room] [Search] [What's New?] [Main Page]
Webmaster