Smith: A Group Called Smith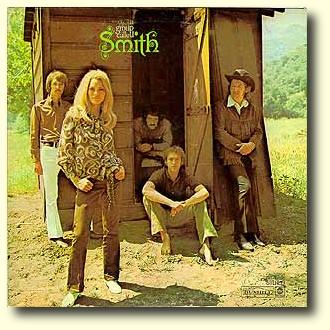 Basically a mainstream pop/rock band with hard rock and soul-influenced arrangements, Smith hit the Top Ten in 1969 with their drastically revised cover of the Shirelles' "Baby It's You." Featuring three lead singers and a B-3 Hammond organ, their strongest asset was their most frequent vocalist, Gayle McCormick, an accomplished female blue-eyed soul belter. Most of their material consisted of covers of popular rock and R&B tunes, and they broke up after a couple of albums, though the singles "What Am I Gonna Do" (co-written by Carole King) and "Take a Look Around" made the middle of the charts. McCormick had a couple small hits in 1971, and made a few albums in the early '70s as a soloist.
The 1995 CD reissue on the Varese Saranbande label of their 1969 debut album (LP Dunhill 50056) A Group Called Smith, adds five significant bonus tracks: the singles "Take A Look Around" and "What Am I Gonna Do," Gayle McCormick's solo singles "Gonna Be Alright Now" and "It's A Cryin' Shame," and Smith's version of "The Weight," which orginally was included on the Easy Rider 1969 soundtrack album, even though the Band's original version was the one used in the film.
Tracks
Let's Get Together
I Don't Believe
Tell Him No
Who Do You Love
Baby It's You
Last Time
I Just Wanna Make Love to You
Mojaleskey Ridge
Let's Spend the Night Together
I'll Hold out My Hand
The Weight (Robertson,Robbie) (244K)
Take a Look Around
What Am I Gonna Do
Gonna Be Alright Now
It's a Cryin' Shame
Smith - A Group Called Smith - 1995 - CD Varese Sabarande 5489
---
[History] [Members] [Library] [Discography] [Videography] [Filmography] [Pictures] [Audio Files] [Video Clips] [Tape Archive] [Concerts] [Related Artists] [Merchandise] [Guestbook] [Chat Room] [Search] [What's New?] [Main Page]
Webmaster