Scotty Moore and D.J. Fontana:
All the King's Men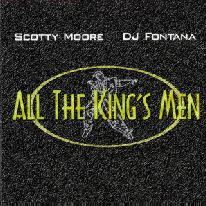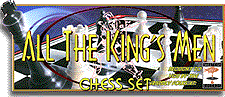 Scotty Moore and D.J.Fontana, the original guitarist and drummer from Elvis Presley's Blue Moon Boys, are remembering their former boss on the twentieth anniversary year of his death with the release of All the King's Men. The CD includes appearances by some of the greatest names in Rock n' Roll: Jeff Beck, The Bill Black Combo, The BoDeans, Cheap Trick, Steve Earle, Joe Ely, Levon Helm, The Mavericks, The Jordanaires, Ronnie McDowell, Tracy Nelson, Keith Richards, Joe Louis Walker, Ron Wood.
Parts of this albums was recorded with Moore, Fontana, The Band, and Keith Richards, in Levon Helm's Woodstock studios. Read more about these sessions in Jim Ridley's article Making Film and Music History Simultaneously. The album was produced by Stan Lynch and Scotty Moore.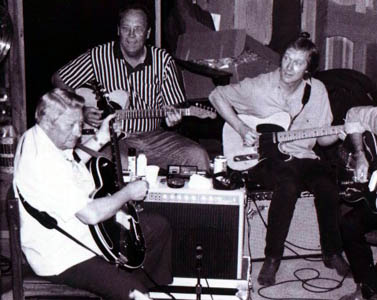 Scotty Moore and Jim Weider of The Band
The song "Deuce and a Quarter" is performed as a duet between Keith Richards and Levon Helm, backed by The Band. A spirited country rocker that hangs on the coat-tails of rockabilly and contains the Memphis Sun sound. Aside from the great grrove, the most notable thing is how good Richards sounds with The Band.
The lineup for "Deuce and a Quarter" is Levon Helm (vocals), Keith Richards (vocals, guitar), Rick Danko (harmony, bass), Scotty Moore (guitar), Jim Weider (guitar), D.J. Fontana (drums), Stan Lynch (drums), Richard Bell (keyboards), and Garth Hudson (organ).
The album is also available as All The King's Men Chess Set, a box including an enhanced CD, tour shots of both Scotty & D.J., detailed chessmen, game board, and a sheet of Scotty & D.J.'s favorite chess tips.
Tracks
Deuce and a Quarter (Keith Richards/The Band) (286K)
I Told You So (The Mavericks)
Locked Up In The State Of Illinois (The Bodeans)
Goin Back To Memphis (The Bill Black Combo)
I'm Gonna Strangle You Shorty (Joe Ely/Lee Rocker)
Bad Little Girl (Cheap Trick)
Soulmates (Ronnie McDowell/The Jordanaires)
Hot Enough For Ya (Steve Earle/Lee Rocker)
Strange Love (Joe Louis Walker)
Is All Of This For Me (Tracy Nelson)
Unsung Heroes (Ron Wood/Jeff Beck)
Sidemen
The Band
Jeff Beck
The BoDeans
Cheap Trick
Steve Earle
Joe Ely
DJ Fontana
The Jordanaires
Stan Lynch
Tracy Nelson
The Mavericks
Ronnie McDowell
Scotty Moore
Keith Richards
Joe Louis Walker
Ron Wood
Scotty Moore and D.J.Fontana - All the King's Men - 1997 - Sweetfish Records
Released in the UK on CD as Polydor 539 066 2.
---
[History] [Members] [Library] [Discography] [Videography] [Filmography] [Pictures] [Audio Files] [Video Clips] [Tape Archive] [Concerts] [Related Artists] [Merchandise] [Guestbook] [Chat Room] [Search] [What's New?] [Main Page]
Webmaster