Al's Pals: Al's Pals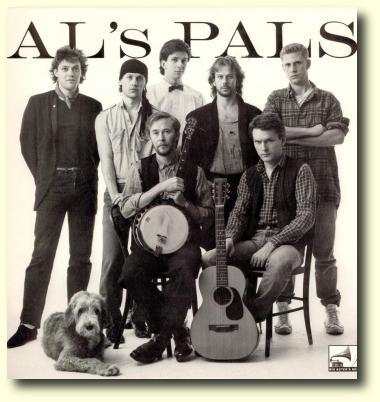 [Cover] [Insert/postcard]
This maxi-single, marked "Not for sale!", was recorded at CTR studios in Stockholm, Sweden, on a Saturday night in September 1985 by Al's Pals, "an art director, two copywriters, a trainee, a jingle-maker and their friends", from the advertising agency Alinder & Co. They had played live earlier the same year, at a Rock Gala for the advertising industry in Stockholm's Grona Lund amusement park.
A quick Google search in 2004 reveals that several of the guys who played in this short-lived amateur outfit have become very respected names in the advertising world. Some of them, like Christer Wiklander and Bjorn Rietz, have won international prices for their work and now hold high positions in international corporations.
The maxi-single, with it's two Band covers, represents "the complete collected works" of Al's Pals (reminiscent of another Scandinavian Band cover group with a rather limited reportoire). The vinyl disc and cover art look nice and professional, although the record label is "Dis Aster's Noise", the catologue number is Alco1 and the references to substance abuse are plentiful in the credit list. A humorous insert card (in Swedish) with a reply form is included with the single.
I haven't listened to this yet, and I'm no hurry to do so.
Tracks
Side A
Side B
Musicians
Bjorn Rietz - lead vocals, guitars, typewriter
Michael Miller - vocals, guitars, camel filters
Anders Sodergren - vocals, piano, organ, harmonica
Henrik Salander - vocals, guitars
Christer Wiklander - banjo, percussion, major credit cards
Carl Johan Fredlund - bass, Kronenbourg beer
Mats Borg, drums, drinks
Gura (the dog), security
Al's Pals - Al's Pals - 1985 - Dis Aster's Noice Alco1
---
[History] [Members] [Library] [Discography] [Videography] [Filmography] [Pictures] [Audio Files] [Video Clips] [Tape Archive] [Concerts] [Related Artists] [Merchandise] [Guestbook] [Chat Room] [Search] [What's New?] [Main Page]
Webmaster