Various Artists: Are You Ready for the Country?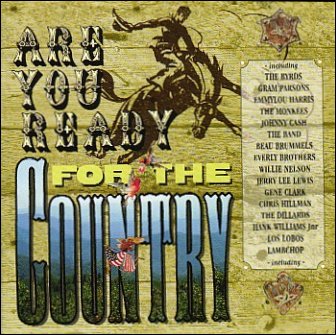 Selected by Peter Doggett of Record Collector magazine to accompany his definitive book. Sleeve notes by Peter Doggett.
A great selection of tracks runs from Johnny Cash and Carl Perkins ("Champaign," "Illinois" co-written with Bob Dylan), via Willie Nelson, Randy Newman, Crazy Horse, The Dillards, Doug Sahm and Gram Parsons to Los Lobos, Lambchop and Uncle Tupelo. The inclusion of three Monkees tracks is between idiosyncratic and bizarre, though Doggett's thesis is that Nesmith was concocting country-rock a year before Parsons and The Byrds. The Band's contribution is "King Harvest (Has Surely Come)."
Artists with two tracks each are Gene Clark, Gram Parsons, The Byrds, Doug Sahm, the Dillards, Emmylou Harris, Jerry Lee Lewis.
--Peter Viney
Various Artists - Are You Ready for the Country? - 2001 - 2-CD set - Warner 8573 88486-2
---
[History] [Members] [Library] [Discography] [Videography] [Filmography] [Pictures] [Audio Files] [Video Clips] [Tape Archive] [Concerts] [Related Artists] [Merchandise] [Guestbook] [Chat Room] [Search] [What's New?] [Main Page]
Webmaster