Bröderna Dobermann: Baar å Bränn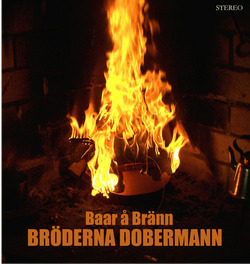 Swedish group Bröderna Dobermann (the Dobermann Brothers, Göran and Gördis from Getmôssen in Värmland) "released" their fourth album, Baar å Bränn (we're rather familiar with Swedish, but still not sure what this album title means), on CD in 2004. The Dobermans claim to have been around since the birth of popular music. According to their web site, they wrote the original versions of a significant amount of the major hits in the history of rock, blues and pop. Over the years, their songs have been translated from Swedish by Lieber/Stoller, Womack and Womack, Allan Lomax, Steve Miller and Robbie Robertson, to name a few. Along the way, the brothers also invented most instruments now used in rock music.
The "original version" of The Band's "Up On Cripple Creek", titled "Upp Nu Kropp Och Kryp" ("first released on a 1964 LP"), can be heard on this CD. The title track on Baar å Bränn is a result of the Doberman brothers' spending time in their studio in Getmôssen with Brian Wilson in 1962, where they "taught Wilson how to arrange vocal harmonies".
Sound sample
Bröderna Dobermann - Baar å Bränn - 2004 - ?
---
[History] [Members] [Library] [Discography] [Videography] [Filmography] [Pictures] [Audio Files] [Video Clips] [Tape Archive] [Concerts] [Related Artists] [Merchandise] [Guestbook] [Chat Room] [Search] [What's New?] [Main Page]
Webmaster