Stevie Salas Colorcode: Back from the Living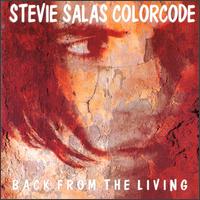 Heavy-rock guitar virtuoso, vocalist, songwriter, producer, and entrepreneur Stevie Salas has an impressive list of credits with artists which he has collaborated with, including Bill Laswell, George Clinton, Bootsy Collins, Sass Jordan, Rod Stewart, Terence Trent D'arby, Don Was, Jeff Healy, Shakespeare's Sister, The Tubes, Buddy's Miles and others. In the '90s, more than 20 of his songs were recorded by other artists and several were top ten hits. In 1995, he released Back From the Living in Japan, it has later been made available in the US. Several noted musicians joined this release, including T.M. Stevens (Pretenders/Steve Vai, Rick Statore (247 Spyz), Tal Bergman (Billy Idol), Parthenon Huxley, Brian Tichy, Ivan Neville and Sass Jordan. The album is a mix of funk, blues, R&B, psychedelia, and hardcore.
Stevie and his band Colorcode went back in the studio for the U.S. release and added three new tracks, among them a cover version of Robbie Robertson's "Shake This Town" from Storyville.
Tracks
Tell Your Story Walkin' (Salas)
Start Again (J. Thrill Quill/Salas)
I Once Was There (Salas)
Wonderin' (Huxley/Salas)
Crack Killed Applejack (General Kane/Salas)
Born To Mack (Salas)
Lying Truth (Salas)
Amelia (Mitchell)
God I'm Going Down (Salas)
Much Ado About Buttin' (Salas)
Shake This Town (Robertson)
Start Again (J.Thrill Quill/Salas)
Steve Salas Colorcode - Back from the Living- 1995 - Volcano 35010
---
[History] [Members] [Library] [Discography] [Videography] [Filmography] [Pictures] [Audio Files] [Video Clips] [Tape Archive] [Concerts] [Related Artists] [Merchandise] [Guestbook] [Chat Room] [Search] [What's New?] [Main Page]
Webmaster