Flying Dogs: Tribute to the Band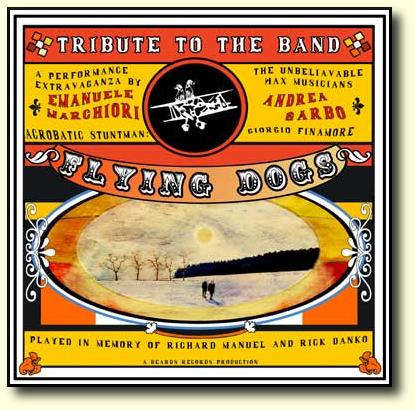 [Cover] [Back cover] [Download printable cover]
The duo Flying Dogs, aka Emanuele Marchiori on lead vocals with his bandmate Andrea Garbo from the heavily Dylan-Band-influenced Italian group The Beards, recorded this 8-track The Band cover CD in a studio in March 2003. Released on their own indie label in the summer the same year, it is dedicated to the memory of Richard Manuel and Rick Danko.
This is a heartfelt tribute album with excellent singing and playing, sparse instrumentation and a nice home-made feel to it. 7 of the 8 songs covered here had Richard Manuel singing lead in the original versions. Emanuele Marchiori tries to sing the songs like Richard did, and he comes very close at times -- it's almost like hearing a young Richard Manuel with an Italian accent.
This record is a tribute to my favourite band of all times, a band that had a great influence on the way I feel about music: The Band. This work has been recorded with a very low budget and a lot of trial-and-error, in just 3 nights of full moon. With it we tried to convey all the emotions we felt as we played. All the songs are very introspective and the arrangements are very basic. Finally I'd like to dedicate this record to Richard Manuel and Rick Danko.
--Emanuele Marchiori
Tribute to The Band can be ordered from The Beards web site, or you can download all tracks (128 Kb/s MPEG-3 audio) and a printable cover from this page and create your own CD.
Tracks
| | | |
| --- | --- | --- |
| 1. | Tears of Rage | (2.5 MB) |
| 2. | Katie's Been Gone | (2.5 MB) |
| 3. | The Night They Drove Old Dixie Down | (3.4 MB) |
| 4. | Whispering Pines | (4.0 MB) |
| 5. | The Shape I'm In | (4.0 MB) |
| 6. | The Moon Struck One | (5.6 MB) |
| 7. | King Harvest | (3.4 MB) |
| 8. | In A Station | (4.6 MB) |
Credits
Emanuele Marchiori, vocals/ keyboards/ street harmonium
Andrea Garbo, background vocals/ guitars
Giorgio Finamore, recording/ mastering
Flying Dogs - Tribute to The Band - 2003 - BeardsRecords
---
[History] [Members] [Library] [Discography] [Videography] [Filmography] [Pictures] [Audio Files] [Video Clips] [Tape Archive] [Concerts] [Related Artists] [Merchandise] [Guestbook] [Chat Room] [Search] [What's New?] [Main Page]
Webmaster