Albert Lee: Black Claw & Country Fever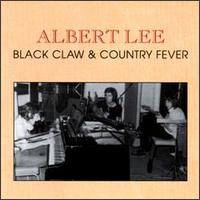 German relase with a collection of late-'60s material from multi-talented English guitarist, producer, and sessionman Albert Lee's groups Black Claw and Country Fever, with covers of "Look out Cleveland" from The Band and "Tears of Rage" from Music from Big Pink, the latter originally released as a US single with Lee's band Country Fever in 1969.
An Albert Lee version of "Tears of Rage" can also be found on the German compilation CD Copy Cats - Line's Greatest Dylans (Various Artists, 1991, Line VVCD 9.01128L), a Dylan cover album with Mitch Ryder, Link Wray, Wilko Johnson, Mike Harrison, Nice, Cold Chisel, Albert Lee, and others.
Another compilation drawing on the same material, titled That's All Right Mama, was released in 2003. In addition to the two Band covers on Black Claw & Country Fever, it also includes a version of "Across the Great Divide."
Tracks
That's Alright Mama (Crudup)
What a Stupid to Do (Hodges)
Best I Can (Lee,Albert)
Send Me Back to the Mines (Corlette/Lee,Albert)
Fool [with Strings] (Hazelwood)
Another Useless Day (Hodges,Chas)
Six Days on the Road (Dudley)
Good Times (Vanda/Young)
St. Louis (Vanda/Young)
Brother Preacher (Hodges/Lawrence)
Country in Harlem (Corlette/Lee,Albert)
Look out Cleveland (Robertson)
Tears of Rage (Manuel/Dylan)
Mama Come Get Your Baby Boy (Corlette/Lee,Albert)
Memphis Streets (Diamond)
Long Gone (Diamond)
Too Much of Nothing (Dylan)
Rocky Top (Traditional)
Tonight I'll Be Staying Here (Dylan)
Mama Tried (Haggard)
Lay Lady Lay (Dylan)
Fool [with No Strings] (Hazelwood)
Albert Lee - Black Claw & Country Fever - 1991 - Line LCD 9.01057
---
[History] [Members] [Library] [Discography] [Videography] [Filmography] [Pictures] [Audio Files] [Video Clips] [Tape Archive] [Concerts] [Related Artists] [Merchandise] [Guestbook] [Chat Room] [Search] [What's New?] [Main Page]
Webmaster