Enoch Light: Brass Menagerie, 1973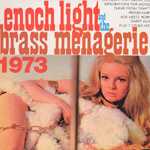 Enoch Light (1905-1978) was a popular bandleader in the '40s and '50s, and a pioneer in using new audio technologies as "ping-pong" stereo and recording on 35mm film in the '60s and '70s.
On Brass Menagerie, 1973, Light uses an all-star brass band and moogs, sitars, tabla, and congas on all-stops-out instrumental originals and covers. Track 8 is a version of The Band's "Dixie."
Tracks
Mambo
MacArthur Park
I Feel the Earth Move
Season of the Witch
Hot Pants
Theme from Shaft
Proud Mary
The Night They Drove Old Dixie Down (3.1MB)
Boy Meets Horn
Sweet Julie
Explorations for Moog
Enoch Light - Brass Menagerie, 1973 - 1973 - Project 3 5060
---
[History] [Members] [Library] [Discography] [Videography] [Filmography] [Pictures] [Audio Files] [Video Clips] [Tape Archive] [Concerts] [Related Artists] [Merchandise] [Guestbook] [Chat Room] [Search] [What's New?] [Main Page]
Webmaster