C-Weed Band: C-Weed Band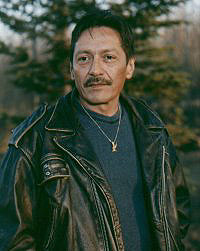 Errol Ranville, 2003

Native American troubadour, singer and songwriter Errol Ranville formed the C-Weed Band in 1975, named after his own nick-name C-Weed. Their first album, released in 1980, included a version of The Band's "Evangeline". "Evangeline" was released as a C-Weed Band single that reached #1 on Canadian Country Radio. The song has later appeared on C-Weed Band live albums and compilations.

Ranville and the C-Weed Band are still active at the beginning of the new millenium, releasing CDs and touring the US, Canada and Europe.

C-Weed Band - C-Weed Band - 1980 - ?

---
[History] [Members] [Library] [Discography] [Videography] [Filmography] [Pictures] [Audio Files] [Video Clips] [Tape Archive] [Concerts] [Related Artists] [Merchandise] [Guestbook] [Chat Room] [Search] [What's New?] [Main Page]
Webmaster