Cahoots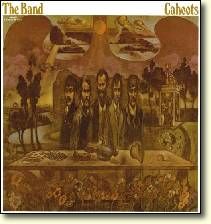 [LP cover] [Back cover] [Inner cover photo] [Japanese "limited edition" CD] [2000 reissue CD] [Charts and ratings]
Cahoots was the first album recorded at Albert Grossman's Bearsville Studios in Woodstock. The sessions were difficult, as the studio was still having the bugs worked out and the Band was experiencing internal problems. Robertson's songs had become much more difficult; the structures, chord changes, and arrangements were increasingly complex. Despite these factors, the album has a number of gems, including "Life Is a Carnival" with its great Allen Toussaint horn arrangement, Dylan's "When I Paint My Masterpiece," a duet between Richard Manuel and Van Morrison entitled "4% Pantomime," "The River Hymn," and "Where Do We Go from Here."
--Rob Bowman, All-Music Guide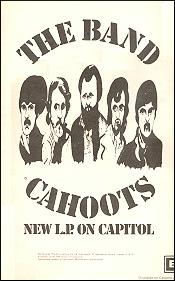 Cahoots ad. from New Musical Express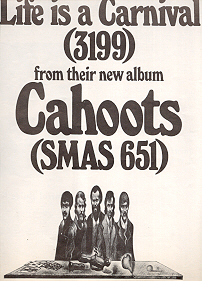 Ad. for "life is a Carnival" single

See also Jill Howland's review from the Usenet newsgroup alt.music.the-band and Peter Viney's Cahoots article from the Band fanzine Jawbone.

A limited edition Japanese CD, with very nice artwork and covers, but horrible lyrics transcriptions, came in 1998. In August 2000 Capitol Records released a remastered Cahoots, produced (mostly) from the original master tapes, with 5 bonus tracks and a booklet with liner notes by Rob Bowman included (Band biographer Barney Hoskyns wrote the original liner notes for the 2000 reissue, but they were rejected by Capitol/ Robertson.)
Tracks
(*: bonus track on 2000 CD re-issue)
12.*
Endless Highway
Outtake, recorded 2/8/71 at the Bearsville Barn. This version features Manuel singing the lead instead of Danko.
13.*
When I Paint My Masterpiece
Alternate take (take 10) - this earlier take was mixed but unused. Recorded at Bearsville Studios, it is missing overdubs that are found in the final master, which used take 17, not take 10, as its foundation, according to EMI.
14.*
Bessie Smith
A version of this song was initially included on Dylan's The Basement Tapes, but Robertson told the reissue producers he believed this was cut in between albums and fit in best with Cahoots.
15.*
Don't Do It
Same situation as "Bessie Smith." This Marvin Gaye cover was an in-concert favorite (it was the final track at the The Last Waltz,) but the version included here is taken from an acetate, cleaned up from the version that has circulated among bootleg collectors.
16.*
Radio Commercial
60-second radio spot produced to promote Cahoots.
Sidemen
The Band , Producer
Robbie Robertson , Guitar / Keyboards / Vocals
Rick Danko , Bass / Violin / Vocals
Levon Helm , Guitar / Drums / Vocals
Garth Hudson , Keyboards / Saxophone
Richard Manuel , Drums / Keyboards / Vocals
Van Morrison , Vocals
Allen Toussaint , Keyboards
Mark Harman , Engineer
Cahoots - The Band - 1971 - Capitol ST-651
Gatefold sleeve with lyrics inside
Rereleased in 1980 (Capitol SN-16003)
Compact Disc: Capitol 48420-2 (1988)
Limited Edition CD: Capitol Japan M57623 (1998)
Remastered CD with bonus tracks: Capitol/EMI 72435-25391-2-3(2000)
Limited Edition "mini-sleeve" CD: Caroline Records 22203, UK (2008)
SACD reissue: Mobile Fidelity UDSACD-2045 (2009)

---
[History] [Members] [Library] [Discography] [Videography] [Filmography] [Pictures] [Audio Files] [Video Clips] [Tape Archive] [Concerts] [Related Artists] [Merchandise] [Guestbook] [Chat Room] [Search] [What's New?] [Main Page]
Webmaster