Little Feat: Chinese Work Songs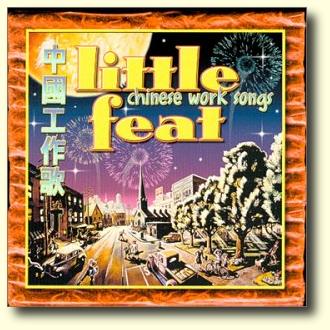 The bookends of this wonderful Little Feat album, released in June 2000, are awesome versions of The Band's "Rag Mama Rag" and Bob Dylan's "It Takes a Lot to Laugh, It Takes a Train to Cry." "Rag Mama Rag" opens the CD, and "Train" closes it. Also included is Little Feat's cover of "Gimme a Stone" from the great concept album Largo. The original version of "Gimme a Stone" has Levon Helm on lead vocal.
Live versions of "Rag Mama Rag" from Little Feat can be found on the acoustic 2002 album Live at the Rams Head and on 2003's Down Upon the Suwannee River.
Tracks
Rag Mama Rag (J.R. Robertson) (450K)
Eula (Paul Barrere)
Bed Of Roses (Murphy, Shaun)
Sample In A Jar (Anastasio, Trey)
Just Another Sunday (Payne, Bill)
Gimme A Stone (Hyman-Chertoff)
Rio Esperanza (Payne, Bill)
Tattoo Heart (Tackett, Fred)
Marginal Creatures (Tackett, Fred)
Chinese Work Songs (Tackett, Fred)
It Takes A Lot To Laugh, It Takes A Train To Cry (Dylan, Bob)
Little Feat - Chinese Work Songs - 2000 - BMG/CMC International Records
---
[History] [Members] [Library] [Discography] [Videography] [Filmography] [Pictures] [Audio Files] [Video Clips] [Tape Archive] [Concerts] [Related Artists] [Merchandise] [Guestbook] [Chat Room] [Search] [What's New?] [Main Page]
Webmaster