Professor "Louie" & The Crowmatix: Live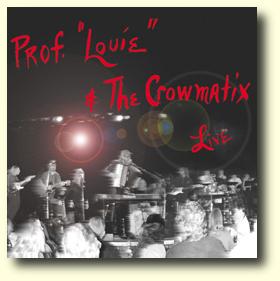 Live (mostly) CD from Professor Louie & The Crowmatix released in May 2003 by Woodstock Records. Produced by Aaron "Louie" Hurwitz, long time co-producer and engineer for groups as The Band, Mercury Rev, Four Men & A Dog, David Nelson Band, and Rick Danko.
On Live, "Louie" & the Crowmatix cover The Band's "Don't Wait" (from Jubilation) and "Ophelia", and the title track from Rick Danko's posthumous solo album Times Like These.
Tracks
Track 1 recorded by Aaron L. Hurwitz and Dave Cook.
Tracks 2-12 recorded live on tour 2003, part 1 of the "Taper's Series" releases.
Musicians
Mixed & mastered at LRS Studios, Hurley,NY by Dave Cook
2 track live recordings engineered by Danny Sheehan
(c) graphic design by Marie Spinosa
CD Manufactured by Tod Levine, Magnetic North, Saugerties, NY
Professor "Louie" & The Crowmatix - Live - 2003 - Woodstock Records
---
[History] [Members] [Library] [Discography] [Videography] [Filmography] [Pictures] [Audio Files] [Video Clips] [Tape Archive] [Concerts] [Related Artists] [Merchandise] [Guestbook] [Chat Room] [Search] [What's New?] [Main Page]
Webmaster