I Dik Dik: Eleonora Credi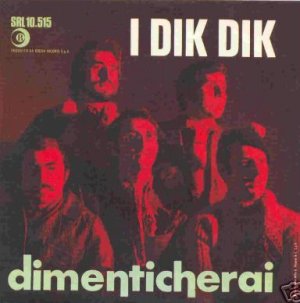 Italian progrock superveterans I Dik Dik (named after an African gaselle) was formed in 1965 and is still active in 2006, according to their web site. I Dik Dik (they seem to have dropped the "I" from their name at some point) released several albums with original material, and also recorded quite a few cover versions of international hits, with Italian lyrics written by members of the group. Among their covers are songs by Jackie DeShannon ("Splendore nell'erba" - "Splendor in the grass"), Dylan ("L'esquimese" - "The Mighty Quinn"), The Mamas and The Papas ("Sognando la California" - "California Dreamin'"), The Flower Pot Men ("Inno" - "Let's Go to San Francisco Pt. 1-2"), Tim Hardin ("Se io fossi un falegname" - "If I Were a Carpenter") and Procol Harum ("Senza luce" - "A Whiter Shade of Pale").
"Eleonora Credi" is I Dik Dik's Italian title for "The Weight," with lyrics written by Giulio Rapetti aka "Mogol". It was originally released as a 45 B-side, with "Dimenticherai" on side A. This version of "The Weight" has surfaced again on later Dik Dik compilation CDs like 16 Grandi Successi (Pop Italia Monografia DGCD 107) and the 2000 release L'Isola di Wight e altri successi.
Tracks
Side A:

Dimenticherai


Side B:

Eleonora Credi
I Dik Dik - Dimenticherai/Eleonora Credi- 1969 - Ricordi SRL 10.531
---
[History] [Members] [Library] [Discography] [Videography] [Filmography] [Pictures] [Audio Files] [Video Clips] [Tape Archive] [Concerts] [Related Artists] [Merchandise] [Guestbook] [Chat Room] [Search] [What's New?] [Main Page]
Webmaster