Doug Kershaw: Flip, Flop & Fly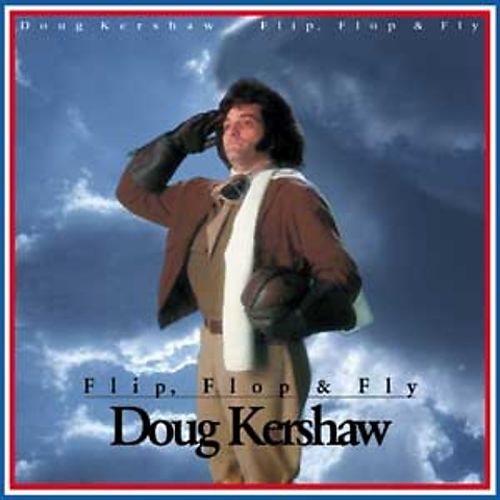 This renowned fiddle player and vocalist is a major figure in Cajun, or acadian circles, the traditional music of Louisianas French-speaking minority. He was introduced to music by Daddy Jack and Mama Rita, who subsequently appeared on many of the artists compositions, and joined a family-based band, the Continental Playboys, on leaving high school. When Kershaws songwriting talent resulted in a publishing and recording contract, he formed a duo with one of his brothers, and as Rusty And Doug quickly became popular throughout the southern USA. By 1956, they were a regular attraction on The Worlds Original Jamboree, a weekly showcase for local talent, and the following year enjoyed a residency on the famed Grand Ole Opry.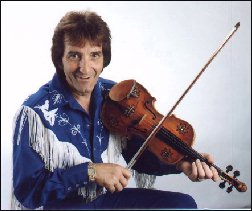 Doug Kershaw, 1999

Three of Kershaws original compositions, "Louisiana Man," "Joli Blon" and "Diggy Liggy Lo," not only became Cajun standards, but have been the subject of numerous cover versions by both pop and country acts. The brothers embarked on separate careers in 1964, but despite the approbation of their peers, Kershaw did not secure a larger audience until 1968, when he guested on The Johnny Cash Show. This appearance coincided with the release of The Cajun Way, the artists debut for Warner Brothers Records, which affirmed his new-found popularity. Cameos on albums by Bob Dylan and John Stewart endeared Kershaw to the rock fraternity, while a series of stellar 70s recordings confirmed his talent as a flamboyant musician and gifted composer. He signed with Scotti Bros. in 1981, and achieved his highest chart position (number 29) with Hello Woman the same year. After an enforced absence through substance abuse, he returned to the charts in 1988 with "Cajun Baby," on which he duetted with Hank Williams Jr.

On Flip, Flop & Fly from 1977, Kershaw does a lovely cover of The Band's "Rag Mama Rag.", with full horn section and Dr. John hammering away on piano. The album is dedicated to "the band"...
Tracks
Louisiana Blues
Flip, Flop & Fly
Twenty-three
You Won't Let Me
I'm Walkin'
Bad News
Black Rose
I'm A Loser
Kershaw's Two Step
Roly Poly
Sidemen
Doug Kershaw - Guitar, Vocals
Elvin Bishop - Guitar
Dr. John - Keyboards
Bonnie Bramlett - Vocals
Calvin Arline - Bass
Randall Bramlett - Saxophone
Harrison Calloway - Trumpet
Annie Rose Dearmas - Vocals
Ronnie Eades - Saxophone
John Hughey - Guitar (Steel)
Al Kaatz - Guitar
Jimmy Nails - Guitar
Pete Pendras - Guitar
Charles Rose - Trombone
Johnny Sandlin - Guitar
Max Paul Schwennsen - Guitar, Vocals
Harvey Thompson - Saxophone
Neil Urpen - Keyboards
Marty Vadalabene - Drums
Bill Stewart - Drums
Doug Kershaw - Flip, Flop & Fly - 1977 - Warner Bros BS 3025
---
[History] [Members] [Library] [Discography] [Videography] [Filmography] [Pictures] [Audio Files] [Video Clips] [Tape Archive] [Concerts] [Related Artists] [Merchandise] [Guestbook] [Chat Room] [Search] [What's New?] [Main Page]
Webmaster