Commander Cody: Flying Dreams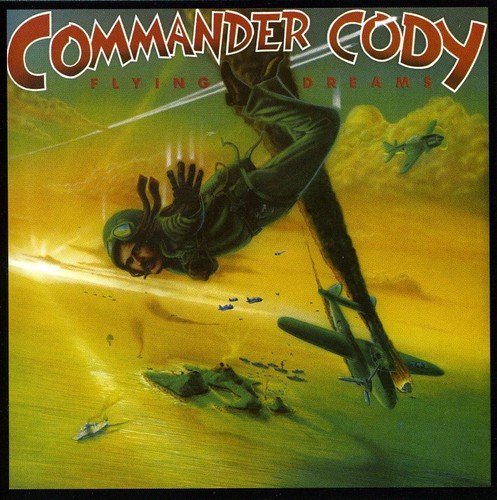 Commander Cody (aka George Frayne) and the Lost Planet Airmen were formed in Ann Arbor, MI in the late sixties. Their repertoire was a good-time mix of almost any music to party by: country swing, rockabilly, tex-mex, gospel and the occasional country tear-jerker, perfect music for pot-smoking truckers. Their rendition of the 1962 classic "Hot Rod Lincoln" soared to number 9 in 1972. All members were accomplished multi-instrumentalists, and especially their live recordings are quite good. Live from Deep in the Heart of Texas (MCA 659) is the recommended summary of the Airmen at their best. Around 1977 the original team broke up, but Cody went on with different Airmen and recorded three albums for Arista, Midnight Man (Arista 4125, 1977), Rock'n Roll Again (Arista 4135, 1977), and 1978's Flying Dreams.
On the Flying Dreams album, Commander Cody does a cover version of The Band's "Life is a Carnival". The album, and especially the cover of "Carnival" seem overproduced and uninspired. Shortly after the album came out, the Commander himself was quoted distancing himself from the "Carnival" cover, by claiming his producer John Hug forced him to do it to sell records to Band freaks. The Commander's heart wasn't in it apparently because he knew he couldn't touch the Allen Toussaint-arranged original, and he didn't.
Tracks
(all songs written by George Frayne aka Commander Cody, except as noted)
Side 1

Thank You, Lone Ranger
Cry Baby Cry (Lennon/McCartney)
He's in Love [He's in Trouble] (George Frayne/Leroy Preston)
Life is a Carnival (Helm/Robertson/Danko) [and credited as such on the album]
Talent Night at the Nashville Inn (Frayne/Preston)

Side 2

Flying Dreams (John Hug)
Dreams of Barbarella
Vampira
Take the Fifth Amendment (Joe Tex)
Stranger in a Strange Land (Leon Russell/Don Preston)
My Day

Sidemen (partial list)

Joe English, drums
Buzzy Feiten, guitar
John Hug, producer
Aberaham Laboriel, bass
Neil Larsen, keybds.
Nicholette Larson, vocals
Clydie King, vocals
Commander Cody (and the Lost Planet Airmen) - Flying Dreams - 1978 - Arista 4183
---
[History] [Members] [Library] [Discography] [Videography] [Filmography] [Pictures] [Audio Files] [Video Clips] [Tape Archive] [Concerts] [Related Artists] [Merchandise] [Guestbook] [Chat Room] [Search] [What's New?] [Main Page]
Webmaster