Sunset Travelers: For The Sake Of It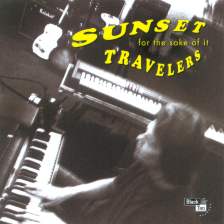 Great Dutch blues band with their first CD recorded for Black&Tan records in 2003. Featuring one of Hollands foremost hammond/keyboard players and vocalists, Roel Spanjers.
Track 5 is a cover of The Band's "Get Up Jake". Live, Sunset Travelers also perform "Twilight," "Rock & Roll Shoes," and other Band related material.
Tracks
Can't Beat The Kid
I Got A Sure Thing
I Washed My Hands In Muddy Waters
One Day
For The Sake Of It
Shake A Hand
Long Farewell
Let It Happen
Walk A Mile In My Shoes
The Man In Me
Everybody Knows (The River Song)
Something's Really On My Mind
Better Day
Sunset Travelers - For The Sake Of It - 2003 - CD Blac&Tan 011
---
[History] [Members] [Library] [Discography] [Videography] [Filmography] [Pictures] [Audio Files] [Video Clips] [Tape Archive] [Concerts] [Related Artists] [Merchandise] [Guestbook] [Chat Room] [Search] [What's New?] [Main Page]
Webmaster