Spark Jiver: Funky Bluesy Jazzy Churchy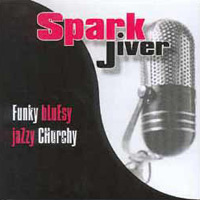 This sophomore release from Toronto's slick trio is appropriately named. Clocking in at just 43 minutes, it could have been much longer. Perhaps this is part of its appeal as listeners have no time to lose interest. The disc's propulsion comes via eleven tracks. Five are originals and all are instrumental except for one. Therefore it is ironic that a microphone adorns the cover. The band consists of Gene Hardy sax, Rod Phillips organ and Jim Casson drums. They are 3 of the country's finest sidemen having performed and recorded with hundreds of groups. Guest musicians expand the threesome on many tracks. All songs were arranged by Sparkjiver yet none were written by the entire group.
A testimonial is an attention-gathering way to start. Unfortunately, its effects do not last beyond the first listen. "Cleo's Mood" is a catchy, foot-tappin' tune where Gene's sax is mysterious and sexy and Kevin Vienneau's guitar is given a 1960s retro feel. Hardy's sax swoops at your emotions and unleashes a fury of vibrant imaginations on "Quay Waltz". A couple tracks have a big band feel which sounds like an entire orchestra. "Geep's Blues" contains Christmas swing while uptempo "Cleanin' Out The Attic" jumps with energy. Robbie Robertson's "Shape I'm In" gets an impressive reading. The arrangement is slow-paced and Rod's vocals are moving, deep and strong. Perhaps something to look forward to on the next disc? Musically, as with the romantic "Atlantic", there is only sax and organ present and it is astonishing. ELP and Yes come to mind on the stormburning "The Scream".
Although the band contains a triad of equally talented musicians, Gene Hardy seems to get top billing. He produced the disc, his websites are listed on the liner (although members have websites), the tunes all seem to evolve from his sax, a caricature of him appears on the liner and he is listed first when the bandmembers names appear. Of course, using acclaimed session men to record as a single unit doesn't always work. Admittedly, Sparkjiver is a long awaited dream-come-true for Gene. It is a forum for his fondness for blues, funk, pop, jazz & gospel. If he has got what it takes to make a band out of these musicians then so be it.
On "Funky Bluesy Jazzy Churchy", the boys leave the cover tracks on their debut and display musical growth. The music here is more jazz than blues. In fact albums like these are part of the reason why blues gets classified as jazz and vice versa. However, all labels set aside, it is exhilarating and impressive especially if you already have an appreciation for ornate sax and an organ that tremors. Hilly Sands provides a fine analogy in his testimonial: "if life was a telethon, they would be the first digit on the far left of the toteboard." So you think all roots music sounds the same? Then you haven't been Sparkjived!
--Tim Holek, bluesartstudio.com
Tracks
Hilly Sands Testimonial
Cleo's Mood
Hippo
Quay Waltz (live)
Ceep's Blues
The Beard
Put It Where You Want it
Cleanin' Out The Attic
The Scream
Atlantic (for Billy McCauley)
Spark Jiver - Funky Bluesy Jazzy Churchy - 2001 - Independent(?)
---
[History] [Members] [Library] [Discography] [Videography] [Filmography] [Pictures] [Audio Files] [Video Clips] [Tape Archive] [Concerts] [Related Artists] [Merchandise] [Guestbook] [Chat Room] [Search] [What's New?] [Main Page]
Webmaster