Bruce Hornsby: Greatest Radio Hits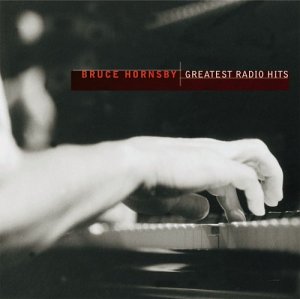 2004 compilation of Bruce Hornsby tracks from 1986 to 2002, featuring a previously unreleased cover of "Go Back To Your Woods", a song written by by Robbie Robertson and Hornsby for Robbie's Storyville album, appearing here with different lyrics.
For his new version of "Go Back to Your Woods," Bruce Hornsby completely dropped the "Storyville" storyline of the lyrics from Robbie's version and came up with a much more universal song about how lousy it is to look down on country folk (according to Hornsby the title came from a chant that cheerleaders from urban schools would use to taunt his high school basketball team from the more rural Williamsburg, Virginia). The only thing that remains of the lyrics from Robbie's version is the chorus.
Finally, a long overdue collection from vocalist/pianist Bruce Hornsby was issued in 2004. The superb Greatest Radio Hits compiles 15 songs, including his charted singles. Eight Bruce Hornsby & the Range numbers and seven solo tracks are featured. Adding "radio" to the greatest-hits title and Hornsby's comments in the liner notes indicate a strong belief in the unpredictability of what becomes a hit. Hornsby's jazz-influenced pop/rock, particularly with the Range, certainly stood out from the rest of the Top 40 pack in the late '80s. Each of his two finest songs, "The Way It Is" and "The Valley Road," packed a fine melodic wallop wrapped in socially conscious lyrics. The brilliant classic "The Way It Is" hit number one in 1986 arguably on the strength of its instantly memorable piano hooks, but who could have expected its heartfelt examination of racism, civil rights, and social inequality to top the charts at the height of the Reagan era? "The Valley Road" was an infectiously melodic number five single, yet its melody enveloped subtle lyrics about out-of-wedlock pregnancy, abortion, and class division set in rural, small-town America. Other hits with the Range are "Mandolin Rain," "Every Little Kiss," "Look Out Any Window," "Lost Soul" (with Shawn Colvin on vocals), the underrated "Across the River" (with Jerry Garcia on guitar), and "Set Me in Motion" from the Backdraft soundtrack. Solo songs include "Fields of Gray," "Walk in the Sun," "See the Same Way," "The Good Life," and three previously unreleased tracks: "Go Back to Your Woods" and fascinating live versions of "Jacob's Ladder" (which Huey Lewis & the News took to number one) and "The End of the Innocence" (co-written with Don Henley, who had a Top Ten hit with his take). Greatest Radio Hits is destined to be a perennial catalog best-seller, and deservedly so.
--Bret Adams, All-Music Guide
Tracks
The Way It Is
Mandolin Rain
Every Little Kiss
The Valley Road
Look Out Any Window
Jacob's Ladder
The End of the Innocence
Across the River
Lost Soul
Set Me in Motion
Fields of Gray
Walk in the Sun
See the Same Way
The Good Life
Bruce Hornsby - Greatest Radio Hits - 2004 - RCA 55971
---
[History] [Members] [Library] [Discography] [Videography] [Filmography] [Pictures] [Audio Files] [Video Clips] [Tape Archive] [Concerts] [Related Artists] [Merchandise] [Guestbook] [Chat Room] [Search] [What's New?] [Main Page]
Webmaster