The Henhouse Tapes Review
---
by Peter Stone Brown
From "Music Under the Radar", CounterPunch Weekend Edition, October 15 - 17, 2010
---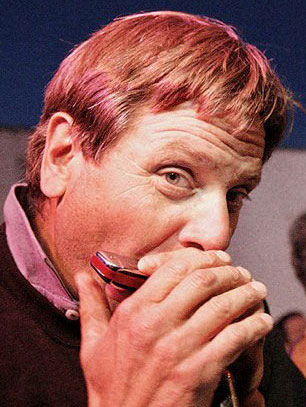 Jeff Newsom

Jeff Newsom is a harmonica player and singer, currently residing in the Teton Mountains in Idaho, who's worked with Otis Rush, and the Holmes Brothers among others. The Henhouse Tapes by Jeff Newsom and friends is a collection of studio tracks, with a couple of live tracks thrown in for good measure, that covers a wide spectrum of blues, with a bit of ragtime and what was in the '60s good time music as well as a cover of a Band classic.

To say that Jeff Newsom is the best harp player you've never heard is not an exaggeration. It is obvious he's listened to all the great Chicago blues harp players, and the non Chicago ones as well. Every solo Newsom takes is not only charged with energy, but invention as well. Playing what's right for each song, with a variety of sounds and tones, he consistently surprises and amazes.

That sense of surprise extends to the musicians accompanying Newsom, including mandolinist Ben Winship, guitarist Mike Dowling and banjo player Tony Furtado, and the arrangements as well. Okay, now some reading this may say, hold on a minute, mandolin and banjo on a blues album? Well, Sleepy John Estes had mandolin on most of his songs. But that's the great thing about The Henhouse Tapes, it crosses, blends a merges a bunch of musical territories.

The instrumental, "Mama Jean," starts out with a funk bass, followed by blues harp solo, followed by a banjo solo, into swing chorus and back again.

On Robbie Robertson's "The Weight," Newsom channels Garth Hudson accordion into his harp playing, with all the Hudson technical intricacies. This is no sing along cover either. It is sung and played with the same soulful attitude as the original studio version by The Band.

Newsom's singing has a toughness reminiscent of Paul Butterfield. He does what needs to be done and never resorts to excessive vocal mannerisms. When he sings about fishing on two songs, the delightful "Fishing In The Dark" and "Going Fishing," the nigh winds blowing on "Move On Away From Here," or standing by the highway at 10:30 at night, on "Rule The Road," you know he's experienced what he's singing about.

The Henhouse Tapes as is, is probably not the finished album Jeff Newsom intended to make, though it stands as one. Early this year, Jeff Newsom was diagnosed with Amyotrophic lateral sclerosis (ALS). This album was quickly culled together by friends for a benefit concert/party in his community. He can no longer play the spectacular harp solos heard on this album, sing or fingerpick the guitar as he does on a cool over of Robert Johnson's "Red Hot." He can no longer earn a living as carpenter. And like many musicians, he does not have health insurance, and even if he did they're unlike to cover the many things he needs associated with this illness to survive.

Anyone who appreciates American music, the ways styles and genres can be intertwined, and most of simply terrific playing and musicianship will more than enjoy The Henhouse Tapes.