Karen Dalton: In My Own Time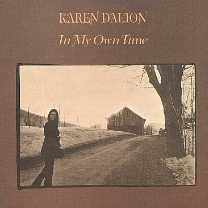 Karen Dalton sang the blues and played the twelve string Gibson guitar and a long neck banjo. Her second album , In My Own Time, was recorded at Bearsville studios, produced by Bob Dylan's former bass player Harvey Brooks, with liner notes by Fred Neil, originally released on Michael Lang's (Woodstock promoter) label, Just Sunshine. The cover photos were taken by Elliot Landy, and The Band's '90s pianoplayer Richard Bell guested on the album. Less common is her first album for Capitol, It's Hard To Tell Who's Going To Love You The Best, re-released by Koch Records in 1996. Known as "the folksinger's answer to Billie Holiday" and "Sweet Mother K.D.", it is said that the song "Katie's Been Gone" by The Band from the Basement Tapes was written about her.
In My Own Time includes a cover version of Richard Manuel's beautiful "In a Station" from Music from Big Pink.
Tracks
Something on Your Mind (Valenti,Dino)
When a Man Loves a Woman (Lewis,Calvin/Wright,Andrew)
In My Own Dream (Butterfield,Paul)
Katie Cruel (Traditional)
How Sweet It Is (Dozier,Holland/Holland)
In a Station (Manuel,Richard)
Take Me (Jones,George/Payne,L.)
Same Old Man (Traditional)
One Night of Love (Tate,Joe)
Are You Leaving for the Country (Tucker,Richard)
Karen Dalton - In My Own Time - 1971 - Paramount 6008
---
[History] [Members] [Library] [Discography] [Videography] [Filmography] [Pictures] [Audio Files] [Video Clips] [Tape Archive] [Concerts] [Related Artists] [Merchandise] [Guestbook] [Chat Room] [Search] [What's New?] [Main Page]
Webmaster