Tino Rossi: La Vie Commence á 60 Ans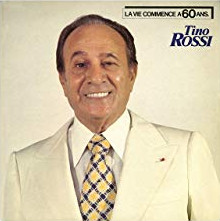 Constantin "Tino" Rossi was a French singer and film actor. Rossi, born in Ajaccio, Corsica, was gifted with a voice well suited for opera. He became a tenor in the French cabaret style. Later, he appeared in various movies. During his career he recorded hundreds of songs and he appeared in more than 25 films. His romantic ballads had especially women swooning and his art songs by Jules Massenet,, Reynaldo Hahn, and other composers, sold out theaters wherever he performed.
On the album La Vie Commence á 60 Ans, released in France in 1979, Rossi sings the song "Varsovie" (the title is the French name for Warsaw, Poland's capital and largest city). The track uses the melody from "Theme from the Last Waltz", the 3/4 time waltz instrumental from The Band's triple album The Last Waltz.
The album title means Life Begins at 60 (Years). Rossi was 62 when it was released, he died four years later.
Tracks
La Vie Commence A 60 Ans
La Femme De Ma Vie
Addio Julietta
Tant Qu'Il Y Aura Une Chanson D'Amour
Mexicali Rose
C'est Mieux Comme Ca
Forza Bastia, Forza Corsica
Chantons La Meme Chanson
Varsovie (The Last Waltz)
Amor, Amor
Whispering
Donnez-Moi Des Roses
Chantons L'Amour
Ma Derniere Chanson Sera Comme La Premiere
Tino Rossi - La Vie Commence á 60 Ans - 1979 - Pathé Marconi EMI 2C 070-53.362
---
[History] [Members] [Library] [Discography] [Videography] [Filmography] [Pictures] [Audio Files] [Video Clips] [Tape Archive] [Concerts] [Related Artists] [Merchandise] [Guestbook] [Chat Room] [Search] [What's New?] [Main Page]
Webmaster