Mystery Train: Making Tracks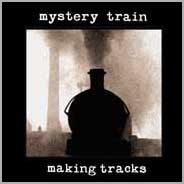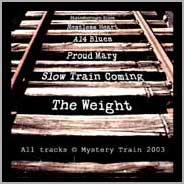 Making Tracks is 6-track CD from the Cambridgeshire, UK, band Mystery Train, who specialise in good-time, rootsy, blues and r'n'b-based music. They perform traditional blues numbers, rock 'n' roll and original songs as well as some covers of great 60s and 70s songs, including The Band. The last track on the CD is a cover of "The Weight."
"With their original songs Mystery Train are now achieving what Eric Clapton set out to do when he heard Dylan's Basement Tapes, and wanted to join The Band - namely a fusion of the raw emotion of the Blues with the powerful lyrical imagery that was the hallmark of Dylan and the Band. It is a long journey, and who knows where the Train will go, but they have set out in an interesting new direction."
Tracks
Statesborough Blues
Restless Heart
A14 Blues
Proud Mary
Slow Train Coming
The Weight (5.6MB)
Mystery Train - Making Tracks - 2003 - Demo CD
---
[History] [Members] [Library] [Discography] [Videography] [Filmography] [Pictures] [Audio Files] [Video Clips] [Tape Archive] [Concerts] [Related Artists] [Merchandise] [Guestbook] [Chat Room] [Search] [What's New?] [Main Page]
Webmaster