Jim Byrnes: My Walking Stick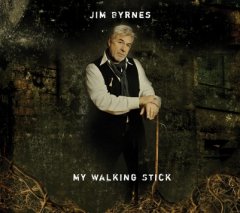 The followup to the multi award-winning CD, House Of Refuge (2006), this recording once again teams up Jim Byrnes with gospel trio powerhouse The Sojourners and award-winning producer Steve Dawson for a follow-up that sees the band tackling some more gritty 60's R&B flavored sounds. A native of St. Louis, MO, Jim grew up surrounded by music on the North side of the city. Chuck Berry, Ike and Tina Turner, Ray Charles and Muddy Waters played nearby and were major influences. Ray Charles' "I'll Drown In My Own Tears" is a highlight track on My Walking Stick and features one of Jim's greatest vocal performances. Jim Byrnes is an international touring artist who plays over 150 dates a year in North America and Europe, including major folk and jazz festivals. Jim is also known as an actor for his roles in film and TV (The Highlander series, Wiseguy, and many others).
The album includes a cover of The Band's "Ophelia."
Tracks
Ol' Rattler
Walk on Boy
My Walking Stick
Lookin' for a Love
Talk in Circles
Three Shots
Lonely Blue Boy (Danny's Song)
Drown in My Own Tears
I'm Living off the Love You Giv
What Are They Doing in HeavenToday?
I Want My Crown
One Life (Creole Poetry)
Jim Byrnes - My Walking Stick - 2009 - Black Hen 0054
---
[History] [Members] [Library] [Discography] [Videography] [Filmography] [Pictures] [Audio Files] [Video Clips] [Tape Archive] [Concerts] [Related Artists] [Merchandise] [Guestbook] [Chat Room] [Search] [What's New?] [Main Page]
Webmaster