Waylon Jennings & the Waymore Blues Band: Never Say Die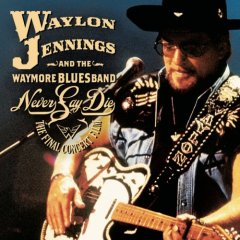 The reissue of Never Say Die: The Final Concert Film by Waylon Jennings and the Waymore Blues Band includes a previously unreleased version of "The Weight." The double CD/DVD came out in July 2007 on the Columbia/Legacy label in the United States. The liner notes mention the song was a fixture at Waylon's concerts, sung by various Waylors before he hit the stage. Vocalist Carter Robertson says Waylon wanted to sing the song with his group, according to the liner notes.
--Tom Wilk, Pitman, N.J.
Journeyman country outlaw Waylon Jennings might have been nearing the end of his road on this performance, but he had a full tank of gas when he hit the Ryman stage for two nights in January 2000. Although too ill to stand, Jennings is in fine -- even exceptional -- voice, as he and his Waymore Blues Band, augmented with horns for the first time, cruise through a tight and tough two-hour gig. This 2007 expanded edition of Jennings's final album not only adds eight tracks and a second audio disc, but also throws in a professionally shot DVD remixed in crystal-clear 5.1 surround sound. Guests Travis Tritt, Montgomery Gentry, and John Anderson add cameos, along with Waylon's wife Jessi Colter, who appears on four tracks. But this is Jennings's show, and although the country legend's health was on a downslide from which he would never recover, he sounds inspired and vital throughout this set of hits (and some obscurities). Extra tracks such as Tony Joe White's "Trouble Man" and The Band's "The Weight" are terrific additions, and the disc has now been reconfigured to follow the original sequence. Fans might lament the omission of signature Waylon fare such as "Only Daddy That'll Walk the Line" and "Lonesome, On'ry and Mean" and the inclusion of fluffier pop like "Never Been to Spain," but this remains a moving and exciting live recording. The DVD is an indispensable bonus. It shows Jennings's obvious delight playing with this exceptional 11-piece outfit and their enthusiasm working with a country legend. The package is a fitting final document to one of roots music's most edgy trailblazers and essential listening/viewing for any country fan.
--Hal Horowitz, amazon.com
Tracks
Disc 1
Never Say Die
Medley: Good Hearted Woman/Mama's Don't Let Your Babies Grow Up To Be Cowboys
Trouble Man
Meldey: Amanda/A Couple More Years
Waymore's Blues
It's the World's Gone Crazy (Cotillion)
Love's the Only Chain
I'm Not Lisa
Storms Never Last
Suspicious Minds
Closing In On the Fire
Disc 2
I'm a Ramblin' Man
Help Me Make It Through the Night
Havin' a Good Time
Shakin' the Blues
Nothing Catches Jesus By Surprise
Never Been To Spain
Drift Away
I've Always Been Crazy
Goin' Down Rockin'
Can't You See
Waylon Jennings & the Waymore Blues Band - Never Say Die - 2007 - Columbia/Legacy
---
[History] [Members] [Library] [Discography] [Videography] [Filmography] [Pictures] [Audio Files] [Video Clips] [Tape Archive] [Concerts] [Related Artists] [Merchandise] [Guestbook] [Chat Room] [Search] [What's New?] [Main Page]
Webmaster