Norah Jones: Live In New Orleans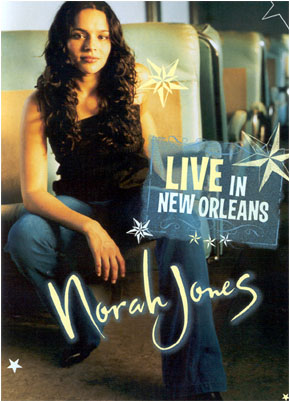 Young, soft-voiced jazz/pop singer and pianist Norah Jones' 2003 DVD Live In New Orleans features an intimate concert performance recorded in New Orleans in August 2002. The DVD contains more than one hour of live material as well as the music video for the title track "Come Away With Me" from her 2002 debut album.
Norah does a beautiful live version of The Band's Basement Tapes song "Bessie Smith" on Live in New Orleans. Her live version of "It Makes No Difference" is unfortunately not included on the DVD.
Tracks
Cold Cold Heart
Nightingale
One Flight Down
Seven Years
Feelin' the Same Way
Come Love
Something Is Calling You
Come Away with Me
What Am I to You?
Painter Song
Lonestar
I've Got to See You Again
Don't Know Why
Credits
Norah Jones - vocals, piano, Wurlizter
Adam Levy - guitar, backing vocals
Lee Alexander - bass
Andrew Borger - drums
Daru - backing vocals
Norah Jones - Live In New Orleans - DVD - 2003 - Blue Note 90427
---
[History] [Members] [Library] [Discography] [Videography] [Filmography] [Pictures] [Audio Files] [Video Clips] [Tape Archive] [Concerts] [Related Artists] [Merchandise] [Guestbook] [Chat Room] [Search] [What's New?] [Main Page]
Webmaster